3rd Ring Out: Rehearsing the Future
Metis Arts
Promoted by Northern Stage
Containers at the Civic Centre, Newcastle
(2010)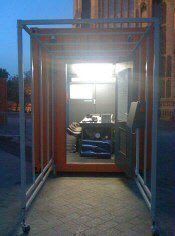 In two containers sited outside Newcastle Civic Centre, just a short walk from Northern Stage, up to twenty audience members per show participate in a "rehearsal for the future" as they make decisions as part of a sector planning group reacting to the rise in sea level and temperature changes in 2033. Sat at a long table, they are led by two of the Metis company and are stimulated into decision-making by telephone calls and video messages delivered via headphones detailing crises and the alternatives for dealing with them.
Sounds familiar? It will be to computer-gamers, for this is a live action Sim (simulation) game. Each decision made by the audience - voting by pressing buttons in front of them - determines the direction the "game" will take at each stage, giving a large number of possible outcomes. Towards the end, power fails, leaving the audience in dim emergency lighting and without contact with the outside world. The two "civil servants" (I can't think what else to call them) leave and, for a very few minutes, the audience continue in a short period of what is essentially role-play until the back doors are flung open and the "performance" ends.
The use of containers (there is one point in the event when the two are connected by a video link) emphasises the "bunker" feel of the whole thing and the dim lighting focused on the long table on which a map of the sector is printed reinforces this feelig. It's quite a shock when the doors are opened and bright outside light floods in: we have been conditioned in just over an hour to expect darkness.
The event begins with what one assumes is a health and safety moment in which we ae told about the exits and this is done in the style of the way familiarised by aircraft cabin crew - "Exits here" - point with both arms outstretched - "and here"- turn and point...
I am tempted to try to pigeonhole it, to put it into a category, to ask "Is it theatre?", but I'm not sure that that would serve any useful purpose. It certainly uses theatrical techniques and it is in this use of theatre techniques that it is at its weakest. It felt under-rehearsed, as though the "civil servants" were not on top of their material. There were hesitations, the occasional stumble over words and even talking across each other, with the one who was obviously coming in at the wrong time allowing her voice to fade away. And this is surprising, for I was at the fourth performance of the day and it has already been performed for four days in Norwich.
However, theatre or not, it is certainly thought-provoking and had people who had been total strangers just an hour before standing for more than quarter of an hour in the chilly Newcastle evening air discussing it.
Reviewer: Peter Lathan