Three Sisters
Anton Chekhov
Cheek by Jowl
Northern Stage, Newcastle, & Touring
(2007)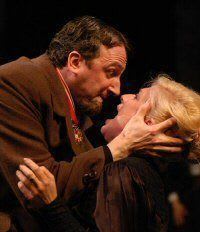 Cheek By Jowl's production of Anton Chekhov's wonderful Three Sisters adds another great notch to the bedpost of a great season at Northern Stage.
Declan Donnellan directs an all Russian cast in Three Sisters, performed in Russian with English surtitles. This provides a wonderful opportunity to hear what is arguably Chekhov's greatest play in the language that he would hear it in his head.
In turn, Cheek By Jowl must have been thoroughly satisfied by the atmospheric vastness of Stage One at Northern Stage. Designer Nick Ormerod aesthetically captures the blemishes that bruise our characters with his rather dirty white staging which was economically made up of tables and chairs. These tables and chairs created all of the locations with wonderful scene changes beginning with a carefully arranged restaurant-like form and ending strewn and broken all over the stage. The scene changes were enchanting and all of the cast worked together to create each new location and sometimes included beautifully dark Russian song.
A symbolic dolls' house and gramophone join the rather grim dwelling of the Prozorovs, who includes the woeful gambler Andrey, his three sisters and his hated wife Natalie, superbly played by Ekaterina Sibiryakova, with her teetering psychosis. The large cast all give remarkable performances and their guttural and solid vocal strength gives greater depth to Chekhov's fine work. The cast also play Chekhov's humour with delicacy and firm reality which audiences cling to throughout the struggling life the company has created.
This production will be magic for all those hardcore Chekov fans out there and is a great opportunity for all to see Chekhov stripped of its stabbing translations into its original and more grinding pace.
It must be stated that this not an easy play to watch, with no blame to be laid anywhere other than the simple language barrier. It can be tiring juggling the action with the overhead screened translation and one can't help but wish they knew the Russian language to be able to disregard the subtitles but this is simply impossible.
The simple fact is that, to enjoy this show, you need to do as the characters so constantly talk about - work. Work hard and reap the benefits of Chekhov's unforgettable play about the decay of the privileged class in Russia and the search for meaning in the modern world.
The production runs at the Barbican from 15th - 19th May but is sold out. Returns only.
Philip Fisher reviewed the production at the Barbican.
Reviewer: V Mitchell