Three Sisters
Anton Chekhov, in a new version by Nicholas Wright from a literal translation by Helen Rappaport
Shakespeare at the Tobacco Factory
The Tobacco Factory, Bristol
(2005)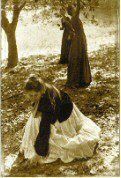 Shakespeare at the Tobacco Factory has come up trumps again with an accomplished and surprisingly involving production of Chekhov's paean to love, loss, love lost, disappointment and thwarted ambition. I say surprising because it's a play I had thought dimmed by over-familiarity in recent years - 2003 saw two starry productions in the West End alone - and yet in director Andrew Hilton's hands this twentieth century classic comes up fresh as paint.
Surprising also because despite its themes the production really grips, although the decision to have a second interval is, I think, a mistake. Given the later starting time of 8pm it also makes for a very late finish - gone 11pm.
It is the first time that SATTF's, run on a shoestring but consistently punching well above its weight, has ventured outside the Shakespearean canon save for a foray into Middleton and Rowley last year. But the director's decision to broaden the company's horizons is more than justified by this production.
One ace in Hilton's hand is the intimacy that this theatre space lends to any production. One feels inside the sisters' house rather than at one remove. But the customary virtues of clarity of thought and expression are also present. One believes always with SATTF productions that the play is indeed the thing.
As is customary too with its productions, this is very much an ensemble production, well-balanced with no one actor allowed to dominate. This is particularly well-suited to Chekhov's plays where the voices of the various characters move in and out of focus like the various parts in a string quartet.
I have to say the production doesn't quite sound the depths, or, to continue the musical metaphor, the lowest notes. Kristen Scott-Thomas gave an overwhelming portrayal of Masha two years back which Lucy Black was never likely to emulate. However, there is much to enjoy here and no weak links.
Daisy Douglas is first rate at Olga, the embattled eldest sister, as is Roland Oliver as Chebutykin, the army doctor and Andrew Collins as an unusually sympathetic Kulygin, pedantic pedagogue and doting husband of Masha. Esher Ruth Elliott, who has done excellent work in the past for the company needs to find more unpleasantness as the vulgar arriviste Natasha. I also enjoyed Stuart Crossman as Andrey, Natasha's unhappily married husband.
Designer Vicki Cowan-Ostersen lends her usual aplomb although the crowded set took a little while to clear between scenes but that's no matter. The renaissance of regional theatre is much-trumpeted and, it could be argued, over pitched, but this production really does offer people living outside of London the opportunity to enjoy first-class theatre on their doorstep.
Reviewer: Pete Wood