The Three Stigmata of Pacman
A show about time travel by Ross Sutherland
Part of a double bill with The Petty Concerns of Luke Wright
Old Red Lion
(2010)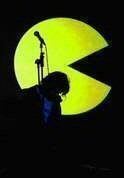 With the strains of Doctor Who being played on a guitar and a giant video of Ross Sutherland's face twitching, it's clear that this show may be slightly out of the ordinary. Using a bin as a time capsule it is indeed just that.
The show comprises more than just poetry: it's philosophical, funny and just a bit mad. After working for the Metro as a music reviewer Sutherland realised the bizarre position he was in. His job involved predicting the future, anything he wrote about a band could become a self-fulfilling prophesy. He suddenly came to the conclusion he was working in the 'department of inescapable futures' and none of the futures created were his.
His mission therefore was to change not only his future but to explain to people in that future the real meaning of things in our time. Echoing classical poets he began to consider not the actual object but the power in the description of that object.
The show is rich in both language and ideas which flow quickly from Ross who works himself into a frenzy by the end of the performance. The audience learn a lot about him as a person but the seemingly improvised aspects are clearly part of the overall structure and tie in beautifully with the video clips and projections. Absurdist in part and reflective and profound in others, it takes a while to tune into Sutherland's performance style but the payoff is worth the wait.
Reviewer: Amy Yorston