Three Tall Women
Edward Albee
Oxford Playhouse production
Arts Theatre, Cambridge, and touring
(2006)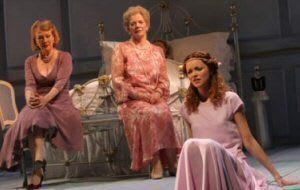 Three Tall Women is an astonishingly good play. Edward Albee has always been a much bigger name in America than he is over here, but, the more his plays are put on over here, the more we're starting to realise how exceptional a playwright he is. Albee is wise without lecturing, shocking without attention-seeking, and hugely funny without seeming to play for laughs - all theories that Anthony Page's astonishing revival of Who's Afraid of Virginia Woolf proved fact at the Apollo theatre earlier this year.
And now the Oxford Playhouse is touring his Pulitzer-winning 1991 two-act Three Tall Women, a play whose first act seems a fairly unremarkable exploration of the life of an (unknowably) ancient woman, A, as seen by her middle-aged carer and her young lawyer, B and C respectively. Yet after the interval, it seems all the women have become one woman, and the relationship between their times of live has interlocked into a dialogue between their ages. It's about sex, about death, about life, and (as one man in his time plays many parts) about theatre - and by its close, it has become one of those enthralling and fascinating plays which draws a thousand thoughts out of you at once.
The three As end up in an argument about life - soon to depart (or perhaps has departed) from the still mannequin of A lying throughout the second act in a bed - and when it is happiest. The eldest gets the last word, and shortly before the lights come down finally, finishes the play with the economical, meta-theatrical statement that the happiest moment is 'When it's all done. When we stop. When we can stop.' Another of the many carefully excavated layers (this, thanks to the excellent programme) is that of Albee's own presence in the play, as the sulky, silent, homosexual son of A; a piece of context which illuminates rather than complicates the chinese-box construction that allows the play to move fluidly through barriers of time and reality.
Watching Anthony Page's Virginia Woolf, the production and performances were so exceptional that you became totally engrossed in them - and never realised how exceptional the play was. That Irina Brown's production does facilitate this alienation by not being in the same league as Page's could perhaps be counted a virtue - you realise every bit how well-constructed the play is; yet, despite its strengths, I can't help but feel there's a better production to be had out of this brilliant play.
For starters, Kate Godfrey hasn't done her job as Voice Coach very well; the American accents of Diane Fletcher as B and Anna-Louise Plowman as C simply don't convince, and you hear the English vowels slip through one after another, particularly in the first half. Saying that, Fletcher on the whole gives a solid and reliable performance, though never one which really touches the heart strings; but Plowman never really convinces as the twenty-something lawyer's assistant. Whether it was the actor's intention to be unbelievable (maybe to suggest a character totally artificial and without self-knowledge?) by the second half I'd just stopped listening.
Marjorie Yates though, for accent and bearing, goes foremost in report, playing A with the ease and control of an absolute master. What impressed most about this deeply moving and wryly wise performance was the actor's ability to handle Albee's short, elegiac monologues of remembrance with real skill, building each one to an imaginative climax before letting it fade back into the situation of the play.
The direction on the whole is pretty good - though the Deeply Symbolic and pretentious touch of having the back wall drop to the floor before the final section, and the rather irritating incidental music would be well worth cutting - and on the whole, the play itself overcomes any reservations about the production. In conclusion, well worth seeing: a good production of an exceptional play, and for the performances well, looking for top-notch Albee actors, one out of three ain't bad.
Pete Wood reviewed this production in Oxford and Sheila Connor in Guildford.
6
Reviewer: Robert William