4.48 Psychosis
Sarah Kane
DEM Productions
C nova
–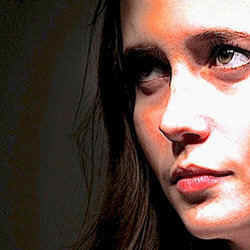 It wouldn't be right to have an Edinburgh Fringe pass by without at least one or two companies attempting to tame the largely indecipherable stream of directionless consiousness which makes up the text of 4.48 Psychosis.
Kane's rambling, often incoherent suicidal confession is written with no stage directions, characters or line instructions. As such it's a true test of a company's ability to form the disparate matter into a workable whole.
DEM productions have taken the meat of the text and draped it over a framework of one woman's descent into depression through the mundanity of modern life. It's an interesting and intriguing adaptation of the work, with the five-strong cast enacting a series of short vignettes, each with new, bespoke conversational dialogue, only to occasionally break into Kane's proses unexpectedly.
The staging is of particular note, as the two tables become more and more strewn with everyday detritus and rubbish as the play moves on. Unfortunately the scene changing and cast movements break down towards the end as the snippets of dialogue between them drop to single words or sentences.
As a result it all gets a bit messy, which is a shame, as the closing moments are as fine and fitting a close as any adaptation of the work could hope for.
Reviewer: Graeme Strachan