4.48 Psychosis
Sarah Kane
Deafinitely Theatre
The New Diorama
–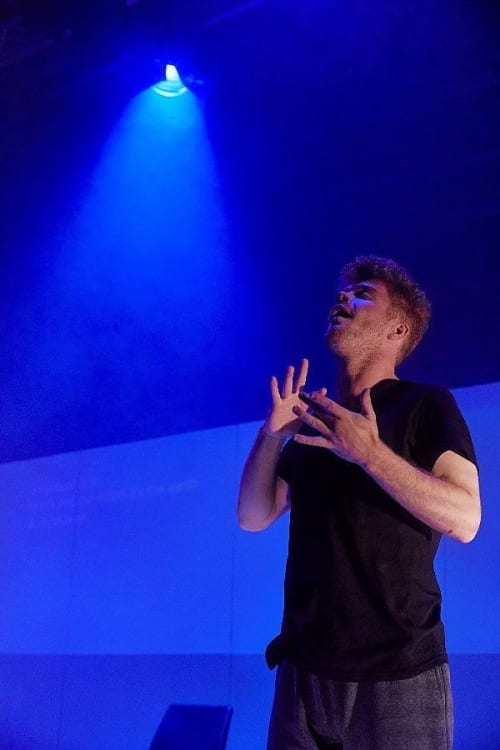 There is a rage in Sarah Kane's 4.48 Psychosis, a rage at the horror she sees in the world and a rage at herself.
It's there, along with moments of despair, in Deafinitely Theatre's harrowing, atmospheric production taking place behind the three huge, framed, plastic security viewing screens to where patients are confined.
Jamie Rea and William Grant give a very physical performance as the two patients. They integrate the British Sign Language (BSL) into a complete set of body movements that indicate frustration, pain, suffering.
The lights are mostly dimmed, sometimes turning a colour that, like the unsettling soundscape, underscores their desperate situation.
Erin Siobhan Hutching and Esther McAuley take on the roles sometimes of English language translators of BSL, sometimes of cold, insensitive members of the medical profession, the doctors that are failing their patients.
It is as if Sarah Kane anticipated the clumsy medical care of her own death, as she depicts the treatment her characters receive.
The doctors thoughtlessly ask questions they repeat and when they are told the patient intends to "take an overdose, slash my wrists, then hang myself", respond with the smart Alec remark, "it wouldn't work. You'd start to feel sleepy from the overdose and wouldn't have the energy to cut your wrists."
The patients have no trust in the doctors they feel judge them, humiliate them, offer them chemical cures for "anguish and cover each other's arses."
The name of each drug and its controlling effects is projected onto the back wall, till the patient is recorded as having shaved their head and cut their wrists, at which point the medics decide they need the bed and the patient is "discharged into the community" where a less monitored selection of drugs replaces the health service.
This is a very fine production of 4.48 Psychosis and certainly the most visually striking performance of the play I have seen.
Shortly after writing the play, Sarah Kane killed herself, leading many to see the poetic work simply through the lens of that event, but the text also contains moments of hope, love, compassion and a yearning for life that made Sarah such a good writer.
Reviewer: Keith Mckenna