42nd Street
Michael Stewart & Mark Bramble
Martin Dodd for UK Productions
The Lyceum Theatre, Sheffield
–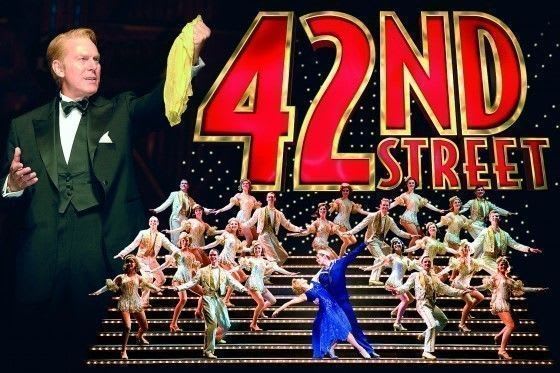 Musical Theatre enthusiasts will no doubt be familiar with the 42nd Street Warner Brothers film of 1933 made by Busby Berkeley and starring Ginger Rogers, with its remarkable staircase tap routines and amazing overhead shots. It wasn't until 1978 that Mark Bramble and Michael Stewart decided to mount a stage version of the film. It was after a year or more of difficulties—copyright, tracking down heirs to the original screenplay, augmenting the number of musical and dance routines—that the stage version saw the light of day.
The slight plot, covering the rehearsal period and eventual performance of a stage musical and the remarkable overnight rise to stardom of an ingénue performer, provides the structure for a show which is bursting with familiar songs, and highly energetic, beautifully staged tap and ballet routines. So items like, "Keep Young and Beautiful", "I only have eyes for you", "We're in the money", "Lullaby of Broadway" and "42nd Street" give enormous pleasure.
Bramble and Stewart's "book" provides opportunities for characterisation which are amply taken up by the principals; it also includes a number of witty one-liners which are entertaining and fun. Dave Willetts is dignified and powerful as the authoritarian director, Julian Marsh; Marti Web is effective as a spoilt and ageing diva, who is also capable of great poignancy. Carol Ball and Graham Hoadly make the most of the comic opportunities in their two roles, and Jessica Punch is convincing as the wannabe chorus girl elevated to stardom. A sub group of chorus girls including Rebecca Marks as Anytime Annie add to the fun.
But this is a singing and dancing show in which the large and wonderful chorus has primacy. The choreography pays tribute to Busby Berkeley and replicates the long staircase routine and, more amazingly, the famous overhead shot of the chorus girls making flower patterns on the floor. Some of the dance routines were very long indeed, but always flawless in execution.
The sets, designed by Douglas W Schmidt, are hand painted and include interiors of the 42nd Street Theatre, Broad Street Station and the sleeping car of a train (reminiscent of the film Some Like It Hot). There are endless costume changes to delight the eye (designer Roger Kirk) from scanty, flesh-coloured items ("Keep Young and Beautiful") to rehearsal outfits, travel costumes, and glittering split skirt dresses. The organisation backstage, with the plethora of scene and costume changes, must have been a wonder to behold and was quick, efficient and faultless.
This is a delightful, heart warming show, perfect for a dull summer evening.
Reviewer: Velda Harris