4.48 Psychosis
Sarah Kane
Tangram Theatre
Old Red Lion
(2006)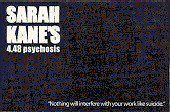 7.31pm, and seven actresses dressed in white sit, stand, kneel, lean against an entirely white background, waiting for the last stragglers to join the audience. The cast stretches, scratches, stares, by turns bored, irritable, impatient. The ticking grows louder. An imperceptible signal from one of them, and the action begins.
4.48 Psychosis is Sarah Kane's portrayal of the clinically depressed mind at 4.48am - the hour, according to Kane, when the mind is at its most sane, and the hour, therefore, when it is most likely to achieve the clarity and self-possession required for suicide. A year before 4.48's first production at the Royal Court in 2000, Kane, aged 29 and one of the most critically acclaimed new voices of British theatre, hanged herself. 4.48, as her final contribution to the stage and as a play "about depression", has inevitably been taken for a thinly veiled suicide note. More accurately, it is a painfully meticulous account of mental disintegration through clinical depression, from the well-meaning platitudes of friends, to doctors who try but can at best only dull the pain, and at the centre of it all an intelligent, hyper-conscious mind drawing ever nearer to the only conclusion over which it has any control.
Tangram Theatre have assembled a strong cast, whose multi-national accents create several distinct personnae for the "patient" at the centre of an relentless cycle of hospitals, drugs and spiralling despair. In the current climate of pre-teenage anorexia and increasing reports of depression among young women, it is sobering to hear the personal anguish of a single English woman spoken in unison by an international, seven-strong female cast. Against Margaret Krawecka's starkly clinical set, each member of Daniel Goldman's strongly led ensemble in turn assumes the role of patient, doctor, observer, with varying degrees of success.
Rebecca Pownall's opening monologue is engaging - her lighter interpretation of the patient's more playful moments gives the audience a "way in" to the nightmare world she inhabits. Similarly, Tessa Nicholson's game show host resumé of the cocktail of drugs which comprise the patient's "chemical lobotomy" reveals Kane's trademark feisty gallows humour. Efi Dementi's tearless defiant monlogues are charged with poignancy.
It is Emily Randall's doctor and Gehane Strehler's patient, however, which provide the defining performances of the evening. Randall's doctor is a woman herself on the brink, poised on the line between professional detachment and personal neuroses, handing out platitudes as a way of avoiding confrontation with her own demons. Strehler, one feels, is the sassy, bold, defiant suicide of Kane's imagination. Already "dead for years", she marches resolutely towards her doom, eyes blazing, and will leave nothing left unsaid before she goes.
Suicide note? 4.48 is much more than that, and Tangram's production gives new resonance to one of the 1990s' most strongly poetic theatrical voices. Be warned, it is not for the faint of heart, but more than worth a watch for Kane fans and to be in at the start of some promising theatrical careers.
Until 11th March
Reviewer: Louise Hill