451
Claire Raftery and Damian Wright
Periplum and Corn Exchange, Newbury
Shaw House, Newbury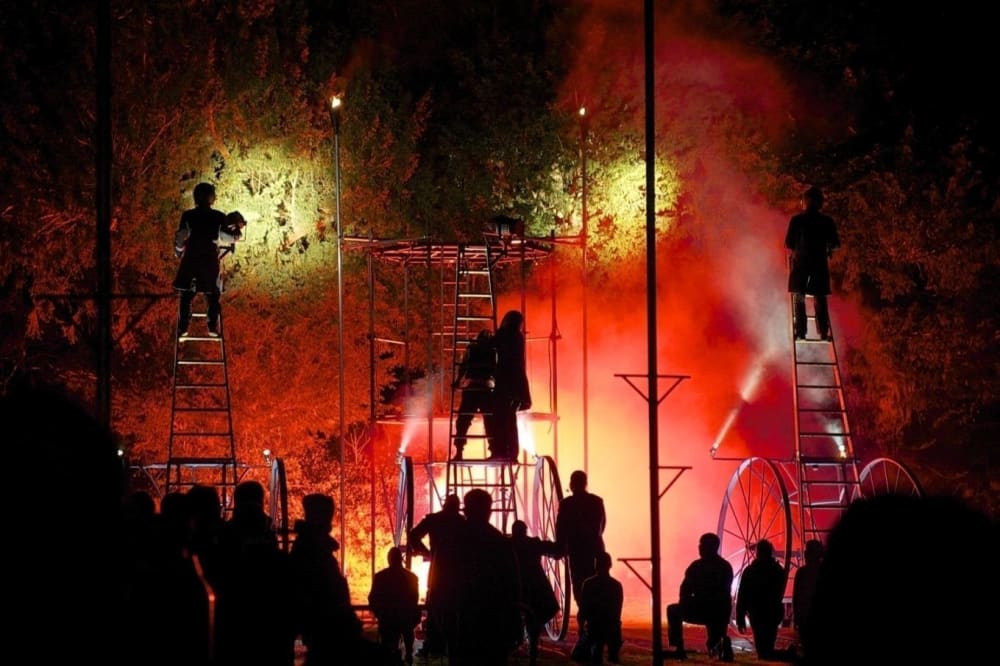 An epic, powerful representation of the essence of Ray Bradbury's dystopian novel Fahrenheit 451 by outdoor arts company Periplum had audiences spellbound and silent in Newbury.
The innovative outdoor theatre company makes work that is grand in both scale and aim, and this new work, co-produced by The Corn Exchange, is no exception. It takes the journey and message of Bradbury's dark and prophetic novel and turns it into an evocative and atmospheric visual narrative. We are immersed in an oppressive state in which literature is banned to keep peace and tranquillity amongst the masses.
Teams of terrifying fire fighters no longer quench flames, but use them to start fires whenever books are discovered. Like the fearfully compliant masses of a dictator-led state, we the audience stand silently as a series of violent and intimidating scenes play out before us.
Books are discovered, a group of people who are memorising texts so they are not lost are hunted down, a cleansing takes place. We witness punishments, executions and the death of a martyr. The spectacular scale of their work never lessens the detail of the story, which, whilst not following the text of the book to the letter, consistently reflects the essence and heart of the text.
The faceless fire fighters, atop giant wheeled ladders roll relentlessly through the crowd with screaming whistles, flame-throwers and searchlights, hunting for dissidents, as the book activists rush amongst us on the ground, fleeing or fighting the forces that aim to control them.
Most of the action takes place above our heads: performers scale aerial poles, spin through a giant watchtower and climb a burning pyre. A central, dark, spinning cradle represents the home of our protagonist, the doubting fireman Montag. It is not much of a safe house; as the tannoy speakers calmly remind us, we are all being watched, we are never alone, for our own safety, of course.
Packed with poignant and powerful visual imagery of oppression and freedom, this stunning piece of theatre also expertly layers text and music, both pre-recorded and performed live, alongside the energetic and passionate physical performances. It isn't easy to deliver a relatively complex narrative in a big, visual outdoor theatre piece.
Many works of this nature stay firmly in the carnival or procession arts territory in order to ensure that everyone accesses the work and that nothing is lost. Periplum, however, aims high, bringing Damian Wright's sonorous and poetic writing into perfect harmony with Claire Raftery's decisive and masterful physical and visual direction.
It is testament to the narrative that the one-thousand-strong audience, outdoors at night, were practically silent, captivated throughout. An audience member standing near to me was shushed for making a rustling noise during a loud sequence with pyrotechnics and smoke.
Despite the grand scale, there are moments of detail and beauty that highlight the humans amongst the machines of this blank and hollow future world. A stunning performance of live violin from Mike Simmonds adds yet another layer and provides a beacon, like a lantern or a warning call, whispering across the smoky night sky. The violin sings of loss and regret; the performer reminds us of the people fighting the system.
It is a pertinent piece, drawing contemporary connections with our current sound-bite-driven media world where we are drenched with mindless information and television to keep us sedate rather than to educate and where we see increasing attacks on freedom of expression. It calls on us all to fight back, ignore the spin and take back the truth, reclaim our own voices and free ourselves.
451 goes on to tour street theatre festivals this summer including Brighton, GDIF, Norfolk and Stockton festivals.
Reviewer: Liz Allum