4Play
InterACT and New Writing North
Northern Stage, Newcastle, and touring
(2011)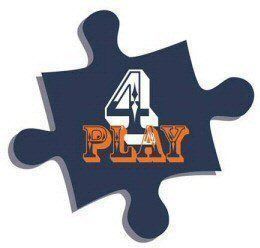 4Play is four new plays presented by InterACT, the northern region's theatre training ensemble for recently trained theatre professional actors and theatre pratitioners who originate from or have trained in the North East of England. At Northern Stage two plays are presented each night for two nights (26th and 27th May) and all can be seen on the afternoon of 28th. All four are presented by the same ensemble of four actors: Umar Ahmed, Sarah Jane Gargett, Rachel Gay and Charlotte Higgins.
Unfortunately I could only see two of them: Jailbait by Freddie Machin and The Plastic Chairs by Clive Holland.
Jailbait
Camilla is just entering puberty; her 16-year old sister Corinne has reported their mother's boyfriend to the police for raping her.
The play opens with a chorus-like figure scattering red roses on a bed, a bed into which Camilla then climbs, to be joined shortly by her sister. As she strews the bed with the flowers, she talks of the moon, its phases and its effects. What possible connection can this have with a young girl now asleep on the bed, tossing and turning? She dreams of Bluebeard...
Gradually the story unfolds and the seeming disconnections link up and become clear. Roses, moon and Bluebeard fall into place. The story gathers pace and builds to a shocking dénouement.
Machin's writing is taut and compelling, handling a difficult subject with sensitivity and subtlety and the young cast are very convincing.
The Plastic Chairs
There are five white plastic chairs on the stage. Four people enter and sit in them. They are tweeting, Facebooking, uploading mobile phone videos to YouTube; they interface online rather than interact in life. Lights go out and suddenly the internet is down. How do they react? How can they react? It is as if they are lost, baffled, almost unable to function.
The performance is not just in words but also in movement. Director Rachel Oliver (who directs all four plays) gives them a series of quasi-contemporary dance moves, sometimes in unison, sometimes fugal and sometimes disconnected, but even in the unison or fugal movements there is a sense of disconnection, as though each person is isolated, mirroring the disconnection between the people and "real" life.
Again the cast do the piece justice. They work well as an ensemble - not easy as each character is essentially isolated from the others - whilst retaining those characters' individuality.
The piece is, I think, a little overwritten: a lot of repetition does not necessarily reinforce the point being made and it could do with trimming by perhaps five minutes but that said, it is a fascinating piece of theatre.
Having seen these two plays, I am disappointed that I couldn't see the rest and this young team of creatives (an interesting multi-purpose set by Anna Rees) and actors are to be congratulated on a fine, if short, night of new theatre.
The tour ends at Northern Stage.
Reviewer: Peter Lathan