The Four Stages of Cruelty
Adam Brace and Sebastian Armesto
Simple 8
Arcola Theatre
(2011)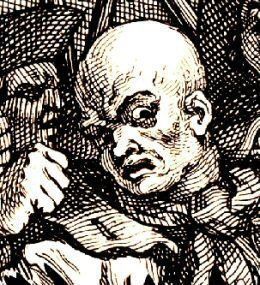 The inspiration for this play is William Hogarth's sequence of engravings "The Four Stages of Cruelty" which show the escalation of cruelty from the torturing of animals to murder. It creates a narrative around Tom Nero, the protagonist of the pictures.
Directed by its writers, the production opens with a stage bare except for a couple of chairs and a dismantled trestle table stacked against bare walls, with pieces of cloth scattered on the floor. Hung like sheets on a line these form a masking which allows discoveries from behind or they can present us with Hogarth's prints as we reach each stage of the story.,
First they are ripped away to reveal a public dissection that mirrors Hogarth's image, of a criminal being eviscerated. This is the final cruelty, a punishment that, eighteenth-century believers thought, would through dismemberment prevent the resurrection of the body at the Second Coming.
This scene is followed by a Tyburn public hanging with a chanting crowd that includes children from Thomas Coram's recently established Foundling Hospital (of which Hogarth was a Governor), Tom (Richard Maxted), an orphan boy from the St Giles Rookery, his bigger bulkier friend (Mat Wandless) on whose shoulders he is perched to watch, and Sally (Emily Pennant-Rea) who has managed to get the hat of the executed man.
These children play at pirates and highwaymen and soon Tom is torturing a little dog with an arrow, one of the many cruelties in the opening engraving. A complex story has been invented around the second picture in which a hackney cab has overturned, spilling out a bunch of lawyers, while a grown-up Tom belabours the poor horse.
Tom steals both horse and carriage when the driver collapses. A bribe to the Worshipful Company of Hackney Drivers hushes things up and gets him a licence but, to raise the money, he gets caught up with a pair of extortionist Irish crooks (Dudley Hinton and Christopher Doyle), who operate gangs of thieves, fix boxing bouts and run a protection racket. He's not presented as an evil man but now he is trapped in their underworld machinations and so his downfall escalates.
The horse and hackney carriage are cleverly contrived, poor theatre style, with the inimitable David Brett as the driver, a boxing match (which Tom is supposed to lose), a vicious assaulted on a man who has already lost a hand in a dockland accident and a comic and colourful masked-ball in which Tom is thought to be a guest in ruffian fancy dress, with Hannah Emanuel splendid as an intrigued hostess, Stephanie Britain as her formidable housekeeper and Oliver Birch as the aristo host, already milking it from Leadenhall Market, who is hoping for political office.
Before Tom ends up on the gallows and himself being publicly dissected we have seen a swathe of mid seventeenth century London life and it reflects the boiling pot that London was becoming - most of the characters have accents from elsewhere.
Essential The Four Stages of Cruelty is a piece of ensemble playing, though everyone gets their cameo opportunity. Strongly performed and enlivened by music and song it entertains through a series of illustrative vignettes but it doesn't explore the reasons for cruelty beyond suggesting that poverty leads to brutality and, plausible though it may be, it seems a bit of a cop out to put so much emphasis on the two Irish baddies.
"The Four Stages of Cruelty" runs at the Arcola until 24th June 2011
Reviewer: Howard Loxton