Five Guys Named Moe
Book by Clarke Peters, music & lyrics by Louis Jordan
Theatre Royal Stratford East
(2010)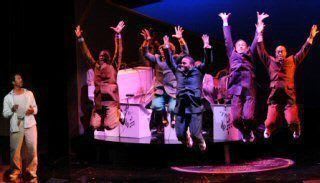 Twenty years after it premiered at the Theatre Royal the West End and Broadway hit and Olivier and Tony Award winning show based around the songs of Louis Jordan and some others is back at its original home in a new production after a brief airing at the Edinburgh Fringe.
With Clarke Peters himself as Nomax, a stunning quintet of Moes, a great band and packed with energising songs, you can hardly fail to like this show. You hardly notice that there is no real story. It is just a guy who's been chucked out by his girl drowning his sorrows by playing his favourite tracks too loud for the neighbours who gets sucked into his record-player and given a lecture in song on how to treat a woman. The lack of book is part-reason for why it works for, once the show has got in gear, the lively banter that goes between the songs instead of plot never lets the energy drop and is full of laughter.
The funky five are quite phenomenal. Ashley Campbell, Christopher Colquhoun, Carlton Connell, Paul Hazel and Horace Oliver are all dream movers who burst with personality and make a marvellous team - and this is very much a team show - with Peters dragged reluctantly into the action.
With the first half ending with the audience joining in on Jordan's 'Push Ka Pie' and the cast leading a conga out to the bar, everyone is having a great party and the good time continues through the club-set second act. It gains from Peters being more grizzled than twenty years ago, it makes him less one of the boys in their colourful zoot-suits and there seems an extra knowingness in his eye-contact with the audience.
Paul J Medford's invigorating choreography barely lets up for a moment with Philip Gladwell's lighting becoming part of it and not only is the singing great but the sound balance never blasts your ears so that you can really enjoy it.
This is a great revival. I wouldn't be surprised if it repeats the West End success of the original production but don't risk waiting, catch it now!
Run at Theatre Royal ends 2nd October 2010
Reviewer: Howard Loxton