6.0: How Heap and Pebble took on the World and Won
Valentina Ceschi and Thomas Eccleshare
Dancing Brick
Ustinov Studio, Bath Theatre Royal
(2010)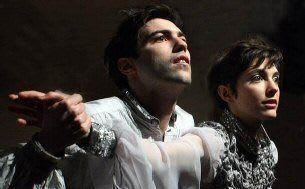 Heap (Thomas Eccleshare) and Pebble (Valentina Ceschi) are beguiling. They stand together, fresh-faced and eager, 'ice-dancing' on wooden floorboards to the strains of Barry Manilow's 'Mandy'. Instantly you're smiling - you can't help yourself.
Audience members who share my chronic stage-fright should take heed: avoid the aisle seats! This pair will charm you entirely off your guard. Before I knew what was happening I found myself on stage taking on the role of reporter, not at all reassured by the earnestly whispered promise that everything I needed to say was written on prompt cards.
I was right to feel terrified: having dragged me up there, Eccleshare and Ceschi remained resolutely grinning their wide-eyed, world-championship grins, like Torville and Dean awaiting the scores, looking at me expectantly whilst withholding the prompt cards for what seemed like an eternity. I sensed a note of smug relief in the audience as they laughed heartily at my vulnerability, although, as it turned out, it was little more than a stay of execution - more neatly-handled audience participation was to follow.
The story here is an off-kilter, light-weight response to the issue of climate change. Starting with the premise that competitive sportsmen are, after all, tenacious in the face of a challenge, Dancing Brick asked themselves what greater challenge could there be for the professional ice dancer than global climate change? What happens to ice dancers when global warming does for all the ice?
Light-weight it may be, but it's irresistibly silly. Eccleshare and Ceschi share an exceptional instinct for comic timing. It's this, more than anything else, which draws the audience in from the very start.
The net result is a rare sense of intimacy: in the theatre bar after the show the audience were buzzing with something akin to a team spirit; a tangible sense of a shared experience.
Reviewer: Allison Vale