64 Squares
Chris Harrisson
Rhum and Clay Theatre Company
Underbelly, Cowgate
–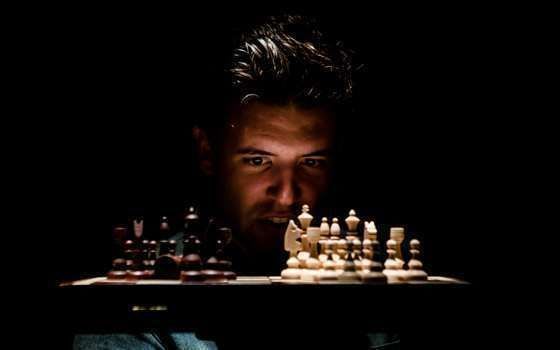 Rhum and Clay's 64 Squares is an intriguing psychological play. It is set onboard a cruise liner, the SS Triumphant in 1939.
In a tiny cabin there is a man who has lost his memory and desperately tries to fit together the multi-layered jigsaw of who he really is. The only clue he has is the letter B embroidered on his uniform jacket.
Cleverly, the character 'B' is played by 4 actors, Julian Spooner, Mathew Wells, Roisin O'Mahony and percussionist Fred McLaren. Each one tells fragments of B's life story from befuddled recollections.
Also on board is the world chess champion Milko Czentovic and B is inexplicably drawn to the bowels of the ship to challenge Czentovic to a game of chess. What follows is a momentous game that reveals the slow unfurling of the life of B as the memories come flooding back.
Rhum and Clay's inventiveness is stunning, using its trademark style of vibrant physicality, shadow puppets and repetitive movement with a joyful playfulness and fun.
The Lecoq-trained company creates myriad characters, each one meticulously formed.
We discover that B worked in a solicitor's office in Vienna in 1937 and fell in love with a new secretary Anna. But, as the shadow of the Nazis falls on Austria, the play takes on a dark and sinister note.
The performances are beautiful to watch. This is a company of consummate storytellers whose craft, energy and commitment leaves you feeling exhausted and marvelling at their skills.
I would urge you to go.
Reviewer: Robin Strapp