Six Degrees of Separation
John Guare
Royal Exchange Theatre, Manchester
(2004)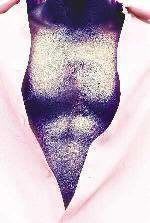 According to the theory described in the play (originally put forward by sociologist Stanley Milgram in 1967) every person on this planet is only removed from any other person by six degrees - in other words you know someone who knows someone who etc to six degrees who knows Sylvester Stallone, or a hill farmer in the Andes, or even me. Which means that everyone on Earth is much closer and more dependent on everyone else than most of us think, and this really is a "small world".
However this play isn't really about this at all. Based on the real-life scams of con man David Hampton, the story begins when the young black man Paul (O-T Fagbenle) arrives at the luxury apartment of high-class art dealer Flanders Kittredge (Philip Bretherton) and his wife Ouisa (Lisa Eichhorn). Paul shows a minor stab wound and says he has been mugged, and that he came to their house because he is a close friend of their son at university. He is charming and intelligent and demonstrates that he knows a lot about the Kittredges, and - and this is the part that really hooks them - he tells him he is the son of the great actor Sidney Poitier, and so he stays with them for the evening, cooks for them and sleeps in their son's room. The Kittredges are charmed by him and believe everything he tells them, but of course for us the question is, is he who he says he is?
The play begins with the Kittredges, flustered and embarrassed, beginning to tell the story of their terrible evening directly to the audience (so we already know that everything didn't go perfectly smoothly). This is really one of those plays where a mysterious stranger appears and becomes the catalyst for the rest of the characters destroying themselves and one another (Priestley's An Inspector Calls, Potter's Brimstone and Treacle), but it is done in an intriguing and often amusing way with some nice swipes at middle class values, the modern family and obsessions with celebrity.
The large cast - thirteen actors share seventeen parts, some of them quite small - are excellent. In particular O-T Fagbenle as Paul just oozes charisma and makes it perfectly believable that this self-obsessed but perfectly intelligent couple could fall for his stories. The stark, white, minimalist apartment from designer Julian McGowan seemed perfect for the Manhattan apartment of these characters. Johanna Towns's lighting kept everything nice and bright, apart from in the non-naturalistic scenes when coloured, regularly-shaped areas were picked out to make the stage look like a modernist painting. This is an excellent production of an enjoyable modern play that manages to sustain the audience's interest for ninety minutes without the interruption of an interval.
"Six Degrees of Separation" runs until 8th May 2004
Reviewer: David Chadderton