Seven Brides for Seven Brothers
Book by Lawrence Kasha and David S. Landy. Music by Gene de Paul - Lyrics by Johnny Mercer
Sunderland Empire & Touring
(2008)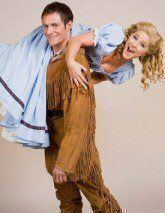 Nostalgic images of nineteenth century Oregon projected onto the curtain of the Sunderland Empire last night set the scene for the classic musical Seven Brides for Seven Brothers. Based on the book by Lawrence Kasha and David Landay, this musical follows the story of Adam Pontipee and his six younger brothers. Adam needs a wife to help him at his ranch and sets his eye on the beautiful and 'sassy', Milly. Adam tricks Milly into a false marital arrangement and she finds herself not just serving her husband but his six undignified brothers too. Undaunted, Milly works her magic and within a few months, transforms the clumsy brothers into respectable, young bachelors who become highly sought after by a group of village maidens, much to Adam's disapproval.
Steven Houghton as Adam provides strong leadership in this musical; however he is undoubtedly outshone by co-star, Susan McFadden as mouthy Milly. McFadden may be deemed by some as just another reality star but with this production, she proves herself a highly capable singer with strong acting abilities. McFadden is truly impressive as she coaches the comical Pontipee brothers in the art of "Goin' Courtin'" which was the highlight of the evening. The six brothers, named alphabetically (to help their mother remember) were magnificently played by Richard Dale, Danny Coates, David Barrett, Oliver Barrow, Craig Tyler and Gavin Lee Rees. These six performers were remarkable all-rounders coping with song and heavy choreography with added comedic abilities, both verbal and physical.
With over thirty performers in the cast, the stage did seem somewhat busy at times and some dances didn't quite hit the mark of precision though with the rustic nature of them, it didn't seem to matter. In fact, the first half was a whirlwind of dresses and dances with the momentum building from one moment to the next and the excitement it had created quite visible from audience members during the interval. Unfortunately, disappointment set in within the first few minutes of the latter half as it seemed the 'ball had been dropped'. The connection between Mcfadden and Houghton was lost and all sense of time became difficult to work out as weeks and months went by, with very little exposition, or indeed, recognition from the actors. One particular scene was incredibly messy and one couldn't help thinking that the pantomime nature of it was just to fill in time. The finale of reprisals and lovely dances ended the show well but one couldn't help but feel let down.
Featuring classic songs including 'Bless your Beautiful Hide', 'Goin' Courtin', 'Wonderful Wonderful Day', 'Sobbin' Women' , 'Spring, Spring, Spring' and 'Love Never Goes Away', fans of this musical will undoubtedly love the knee-slapping atmosphere. However if you're new to the story, you might want to do a few background checks first to help you get your bearings as to its rather complex chronology.
"Seven Brides for Seven Brothers" is at The Sunderland Empire until Sat 20th September
Reviewer: V Mitchell