Seven Brides for Seven Brothers
Book by Lawrence Kasha and David S. Landy. Music by Gene de Paul - Lyrics by Johnny Mercer
Sunderland Empire and touring
(2006)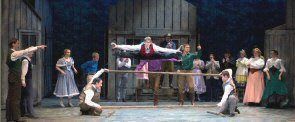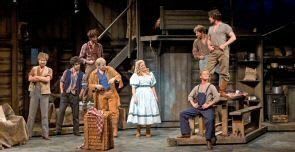 Comnparisons may, as the old saying goes, be odious but, in the case of musicals which began life as films, are inevitable. This is definitely the case with Seven Brides and there is no doubt that the vast majority of the audience at the Empire - and probably elsewhere on the tour too - were fans of the film (and overheard conversations certainly reinforce that idea). Indeed, my own memories of the film focus almost entirely on the dancing, especially that of Russ Tamblyn as youngest brother Gideon
And it is the dancing in this production which sticks in the mind, especially that of the men, both brothers and townspeople, although the women are equally effective, albeit in a less athletic way. The Social Dance, cleverly choreographed by Adrian Allsopp, was slick and superbly well done, drawing gasps of delight from the audience as the brothers replaced the townsmen, and vice versa.
The songs, of course, are well known - Bless Your Beautiful Hide, Wonderful Wonderful Day, Goin' Courtin' and Spring, Spring, Spring are classics of their kind - and they are well performed, not only by the principals but by the entire company. Dave Willetts as Adam Pontipee not only sings superbly and can still cut a hell of a caper as a dancer, but also convinces as the redneck who is reformed by the love of a good woman - but he did look rather more like the father of the family than their eldest brother!
Shona Lindsay was an absolute joy as Millie, sweet but with just the right touch of feistiness and more than a little steel inside.
It is very much an ensemble production - indeed, that's the nature of the show itself, much more so than most of the musicals of the period - and the ensemble is very good indeed.
Seven Brides for Seven Brothers is the epitome of the easy-listening, easy-watching kind of musical. It's pure entertainment. The plot is, to say the least, highly improbable, but really that's irrelevant. Miss Saigon or Les Mis it ain't - just suspend all disbelief and sit back and enjoy.
And Gideon? Jay Webb, looking remarkably like Russ Tamblyn (at least from the back of the dress circle), makes a superb replacement!
After closing in Sunderaland on Saturday, the tour continues to Edinburgh, Cambridge and Malvern.
Sheila Connor reviewed this production at the New Victoria Theatre, Woking, and Bronagh Taggart reviewed the London poroduction at the Theatre Royal Haymarket.
Reviewer: Peter Lathan