Seven Brides for Seven Brothers
Book by Lawrence Kasha and David S. Landy. Music by Gene de Paul - Lyrics by Johnny Mercer
Lyceum Theatre, Sheffield, and touring
(2009)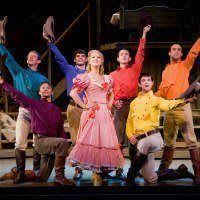 A lengthy programme note emphasises the importance of Dance in the presentation of this magnificent Song and Dance spectacular. Steven Houghton as Adam Pontipee and Susan McFadden as Milly lead a team of dancers, who also sing their way through great numbers, many from the earlier versions of this long-running story, but with added songs in the later versons.
Set in mid-19th century Oregon, it focuses on a family of seven brothers who need a woman to care for their household living. Eldest brother Adam (the others running alphabetically to G) decides that marriage is the way for him to solve their problem so off he goes to the town, braving the passage through Echo Valley, and weds Milly whom he brings back to the farmhouse. He omits to mention the remaining six brothers awaiting her attention. It is not difficult to work out what might happen - and does, resulting in the brothers, together with the six new girls they have 'encouraged' to return with them to the farm, being trapped there for the winter as Echo valley fills up with the mightiest avalanche they have seen.
It is not the story which holds the attention, but the wonderful organised song and dance routines, filling the stage on every occasion with complicated interactions between the three sevens - the brothers, the girls, and the men who have been deprived of their former potential wives. Words are not the right tools to establish the complex interactions, with athletic dancing, portrayed, one gathers, by athletes who can dance and sing rather than actors who are athletic.
The evening is a vivid display, enhanced by the music of Gareth Williams directing the orchestra, and a note that "Baby Crying" was performed by Emily Williams, possibly some relation.
Reviewer: Philip Seager