Around the World in 80 Days
Adapted from Jules Verne's novel by Toby Hulse
The egg, Bath Theatre Royal
(2009)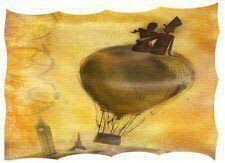 In these grim, recessional days, Bath's egg theatre offers a splash of timely optimism in Toby Hulse's adaptation of Jules Verne's Around the World in 80 Days.
Hulse took inspiration from Verne's 1873 celebration of human endeavour and invention - enough to pen this round-the-world, multi-character, multi-location, three-hander. An ambitious undertaking.
Director Lee Lydford and this strong cast succeed in realising Hulse's considerable creative challenge, and with Hayley Grindle's evocative design, this production captures all the spirit, colour and ingenuity of the age.
Craig Edwards is every bit the gentleman adventurer as Phileas Fogg, quick to rise to a challenge and embodying the very heart of that Victorian "can-do" mentality. Gregor Henderson-Begg gives solid support as Detective Fix of the Yard, and recent RADA graduate, Jessica Pidsley makes a memorable professional debut as the captivating Passepartout.
Grindle's design is characteristically spectacular - the set is at once the vaults of the Bank of England, a luxuriant salon at the Pall Mall Reform Club, the British Embassy in Cairo, a steam locomotive powering through the American mid-west and even an elephant traipsing through the jungle. Not to mention, of course, the obligatory hot-air balloon.
Add to that a multi-media element played to maximum effect and you have a winning combination.
Victorian irrepressibility runs through the heart of this play. It's there for the adults to see in Passepartout's refusal to pay heed to the ever-changing global time zones: his watch is true to Big Ben and he adamantly refuses to re-set it to local time. In true Victorian imperialist fashion, there's nothing for it but to wait for the sun to "re-set itself" to GMT. It's there, too in Phileas Fogg's refusal to bow to pessimism or defeatism in spite of any number of obstacles.
But for the younger members of the audience, this is a fast-paced, irresistible round-the-world romp, packed full of mayhem and melodrama and guaranteed to raise a smile.
"Around the World in 80 Days" runs at the egg until Saturday 16th January
Reviewer: Allison Vale