9 to 5 the Musical
Music & lyrics by Dolly Parton, book by Patricia Resnick
Ambassador Theatre Group
Opera House, Manchester
–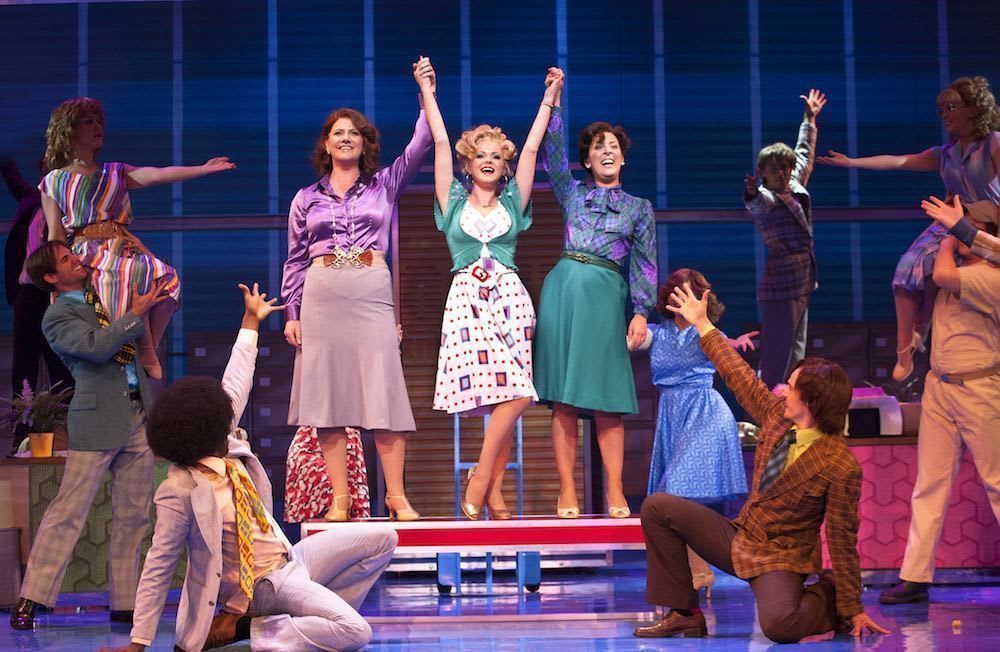 Four years after its Los Angeles opening, the stage musical adaptation of the 1980 office film comedy 9 to 5 made its UK debut in Manchester before a packed audience, shivering in the cold and draughty Opera House with its overactive air conditioning.
The story concerns the office politics at Consolidated Industries in 1979, specifically the inequalities between the male and female staff, amplified by the sexist attitude of CEO Franklin J Hart whose behaviour towards women ranges from patronising to sexual assault. Hart humiliates timid new employee Judy Bernley—who has just split from her cheating husband Dick—in front of the whole office and makes Doralee Rhodes bend to pick up pencils or reach for files on the top shelf so he can ogle her.
After an unlikely series of events, Hart is rushed to hospital and senior office worker Violet Newstead believes she is responsible, and Violet with Judy and Doralee—after Violet has apologised to her for believing Hart's claims that he was sleeping with her—kidnap the boss and hold him hostage in his own home while they look for evidence that he has been cheating the company.
There's plenty of meat in this story for some farcical situations with a touch of political, feminist comment, but the storytelling is rather loose, not helped by the old issue with film-to-stage transfers: the numerous short scenes with lengthy scene changes in-between. This means that we never really get involved with the story or the characters before we are whisked off somewhere else, and the modern method of adding superfluous dumb show to fill the time it takes to change the set doesn't help to restore the loss of pace.
The songs largely work well in a musical theatre setting with a great chorus arrangement of the title song to start the show—although the dreadfully cheesy narration from Parton herself on film projected onto a giant clock adds nothing to the story and needs to be excised. There are rather too many character solos as opposed to numbers that actually move on the story, perhaps betraying the composer's background as a solo artist.
The quality of the songs is variable; Hart's "Here For You" has dreadfully banal lyrics with obvious rhymes, but this is followed by Doralee's wonderful "Backwoods Barbie" where she declares that she has a brain beneath the blonde hair. This is followed by yet another solo from Hart's besotted PA Roz, "Heart to Hart", which isn't exactly a classic but gives Bonnie Langford a great chance to shine in a very physical comic number.
Jackie Clune is wonderful as Violet with a perfectly-measured performance. Amy Lennox also gives a strong performance as Doralee, the role that Parton played in the film, and Natalie Casey completes the female trio as the slightly scatty Judy. Ben Richards plays Hart more or less as a pantomime villain; while such a broad interpretation swamps any political message, it certainly gets some laughs.
Kenneth Foy's design certainly captures an office in 1979, but there is too much scenery changing that holds up the action. Bruce Coughlin has created some nice, full orchestrations for the the eight-piece pit band, led by Mark Crossland as MD.
While it certainly isn't terrible, it isn't great either. There are some rough edges in the scene changes and the choreography that will no doubt be ironed out, but the main problem is that the audience is never taken inside the story; we just feel as though we are observing little bits of things happening to people we never get to know properly from a great distance.
But there are some funny lines, some quite good scenes, largely decent songs and a one or two excellent performances.
Reviewer: David Chadderton