946: The Amazing Story of Adolphus Tips
Michael Morpurgo and Emma Rice, based on Michael Morpurgo's novel
Kneehigh in association with Birmingham Repertory Theatre and Berkeley Repertory Theatre
West Yorkshire Playhouse, Leeds
–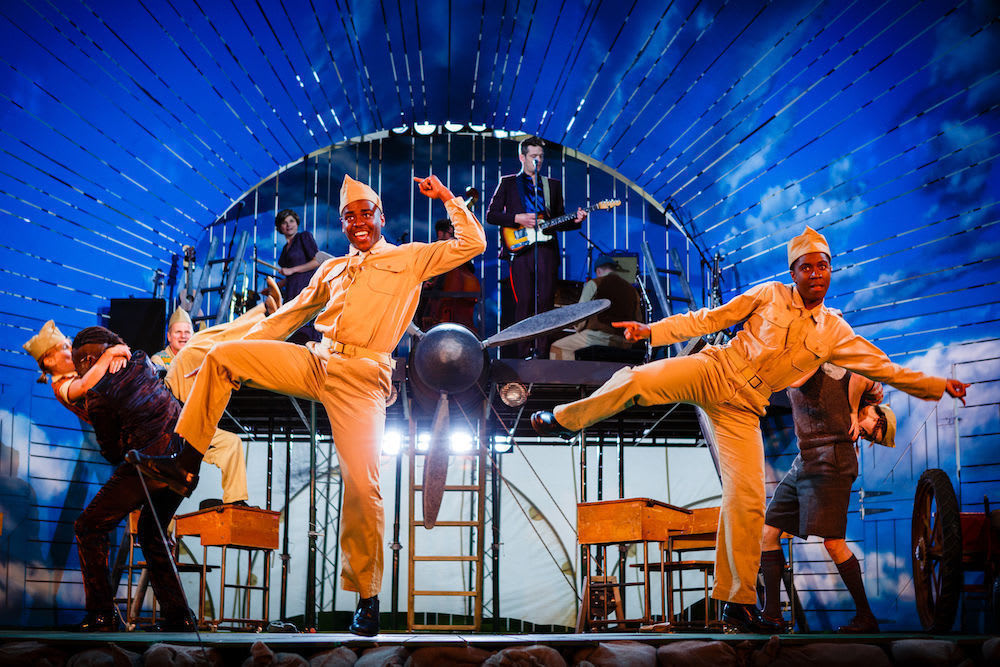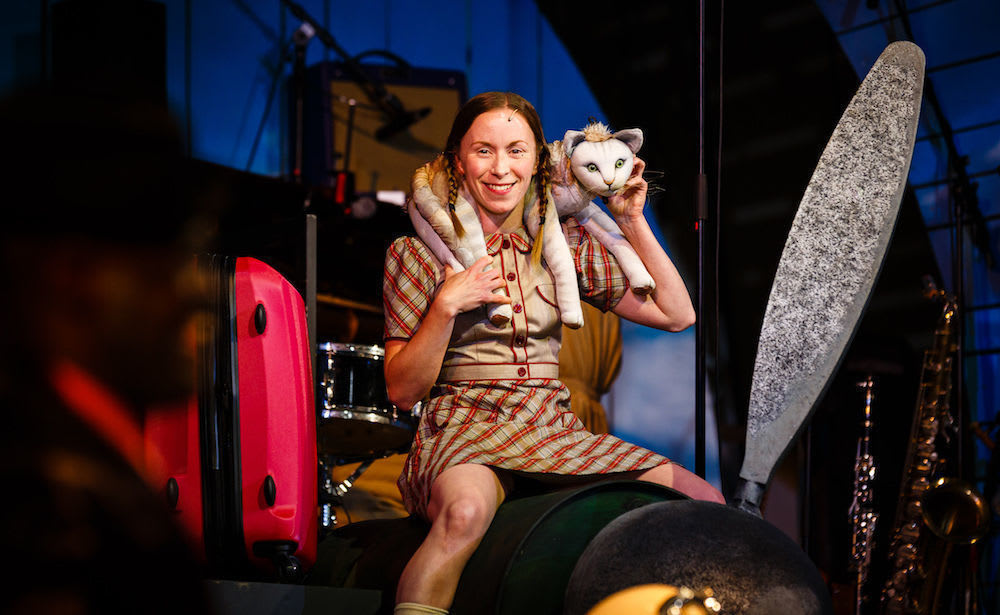 Over the last 30 years, Cornwall-based theatre company Kneehigh has gained a reputation for creating joyfully anarchic productions that delight audiences with their unique visuals and storytelling flair. In their new family show, first staged at Shakespeare's Globe earlier this year, Emma Rice has collaborated with former Children's laureate Michael Morpurgo to bring his novel The Amazing Story of Adolphus Tips (2005) to the stage.
Set during the final years of the Second World War, 946 tells the story of Lily Tregenza (Katy Owens), a 12-year-old girl living on a farm with her loving mother (Kyla Goodey) and stubborn grandfather (Mike Shepherd) in the coastal village of Slapton in Devon. The war has thrown Lily's life into disarray. Not only has her father (Chris Jared) left home to fight the Nazis, but now her family has been turfed out of their home by American soldiers so they can train for the D-Day landings by practising on the beach nearby.
That said, things aren't entirely bleak for Lily. A new boy at school, the evacuee Barry (Adam Sopp), raises the possibility of romance, and the visiting American soldiers inject some much-needed fun into the community with their singing and dancing. Plus, of course, there is Lily's beloved cat Tips, her closest friend and confidante. However, things take a dramatic turn when the wilful feline, undeterred by barbed wire, ventures into the exclusion zone drawn up around the soldiers' training area.
Although this play focuses on the wartime experiences of a young girl, it also spotlights a tragic and often neglected event in WWII history. Due to a communications blunder, the visiting American soldiers were attacked by German E-boats without protection from the British navy, resulting in the deaths of 946 men.
Although 946 deals with heavy subject matter in a moving and sensitive way, the overall impression I got from watching the play was one of intense joy. Emma Rice's production is a heady mixture of physical theatre, puppetry, dance and song that positively brims with energy and imagination. Indeed, it excels in almost every possible way.
The whole cast give beautifully realised performances. Katy Owens is outstanding in the leading role, brilliantly inhabiting the part of a mercurial 12-year-old girl. She manages to be brash and boisterous yet also vulnerable and hugely sympathetic. Ncuti Gatwa and Nandi Bhebhe bring explosive energy and charm to the roles of Adi and Harry, the two African-American soldiers who win the friendship of the initially timid villagers. A special mention must also go to Ewan Wardrop, who is hysterically funny in a series of smaller roles, including an outrageous toff (Lord Something-or-other) and Barry's larger-than-life mother.
The production is propelled by delightful, toe-tapping music. A band of skilled multi-instrumentalists play a host of soul classics ("I Wish I Knew How It Would Feel to Be Free"), musical standards ("Amazing Grace") and catchy new songs by Stu Barker. Throughout the show, members of the cast run upstairs to join the band by picking up instruments and playing along.
Like Nick Stafford's War Horse (2007), the most famous stage adaptation of Morpurgo's oeuvre to date, 946 uses puppetry to dramatise the close bond that can build up between a child and a pet. Tips, as puppeteered by Nandi Bhebhi, is by turns playful and aloof: in other words, very much like a real cat. Whether it's farm animals scurrying across the grass or German airmen descending by parachute, Sarah Wright's puppetry provides many of the production's most magical moments.
Lez Brotherston's eye-catching set design—a composite of bare boards, sand bags, tin baths (to represent the English Channel) and an airplane propeller—simultaneously evokes the play's wartime period and provides a versatile playground for the performers.
There has been much discussion about Emma Rice over the last two weeks, following the announcement that she will be stepping down as artistic director of Shakespeare's Globe in 2018. Many critics have lamented the fact that one of the UK's most exciting theatre-makers will not be given the chance to put her unique stamp on one of the country's most beloved theatrical institutions. On the basis of this production, I would like to add my voice to that chorus.
Reviewer: James Ballands