Absurd Person Singular
Alan Ayckbourn
Octagon Theatre, Bolton
(2007)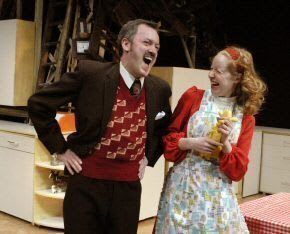 There are two revivals of old Ayckbourn comedies opening in the region this week, including this one at the Octagon—Absurd Person Singular—which won the Best Comedy award in the Evening Standard theatre awards of 1973.
The play is in three distinct acts set in the kitchens of three different couples on three different Christmas Eves. Sidney and Jane host a cocktail party for architect Geoffrey and his wife Eva and banker Ronald and his wife Marion to try to impress them. Of course Sidney's over-enthusiasm and Jane's nervousness and dizziness ensure that things don't quite go to plan, but by the time they have drinks at Geoffrey and Eva's house the following year, Sidney is doing rather well in business and Geoffrey is about to leave Eva who spends the evening trying to kill herself. By the third year at Ronald and Marion's house, Sidney has the wealth and the power and the others, while still looking down on him, have to impress him to survive.
This play is now 35 years old, and while this certainly does not mean in itself that it should be ignored, much of the comedy in it does now appear very dated. There are still plenty of laughs in it, though, and there were plenty of belly laughs from the packed press night crowd, particularly from the older members of the audience.
The set, designed by Fiona Watt, is dominated by what appears to be a huge symbolic Christmas tree made from battered pieces of furniture piled up randomly. Behind this are two large flats containing advent calendar-style doors, more of which open with a crash (or stick half-open) at the beginning of each act to reveal images of the 70s so beloved of those greetings card manufacturers who laugh sneeringly at images of anything old-fashioned such as chunky electronic calculators and old knitting pattern cover photos. In front of this is the L-shaped kitchen, which is changed slightly for each act by changing doors on units or changing doorways into cupboards. Whilst some of this is quite ingenious, it seems to produce a huge amount of work for the stage crew during the two intervals to very little effect, making it look as though all three houses were furnished by the same second-hand shop and making any comments about each other's kitchens in the dialogue seem rather odd as they are all so similar.
Jack Lord plays the irritating, upwardly-climbing Sidney as a very over-the-top comic caricature, especially in the first act, playing the whole thing purely for laughs. Nia Gwynne as his wife Jane is very good and much less extreme and, although perhaps a little shrill at times, does manage to create a sympathetic character that the audience can relate to. Robert Perkins plays Geoffrey at just the right level, with Alison Darling as Eva getting three entirely different facets of the same character in the three scenes across quite believably. Paul McCleary as Ronald and Sherry Baines as Marion also put across their characters quite naturally.
There are certainly plenty of laughs in the production, but it seems rather old-fashioned and a curious choice of production from the Octagon, and visually looks rather a mess. With two intervals, the running time is a little long, but plenty of people will be entertained by it at least in parts.
Running until 12th May
Reviewer: David Chadderton