Absurd Person Singular
Alan Ayckbourn
Curve, Leicester
(2011)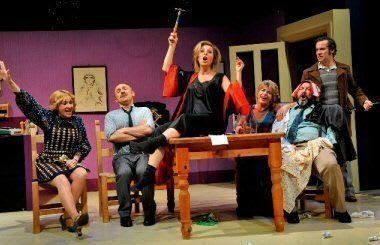 Theatre often encourages you to suspend disbelief, which is why Curve wants you to imagine that instead of being at the beginning of summer we're actually in the festive season. It may seem strange to be watching now a play that's set on three consecutive Christmas Eves - but the quality of this production would make it a success no matter what time of year it was staged.
Absurd Person Singular is the play which some commentators feel altered people's attitude towards Ayckbourn: it's dark, chauvinistic undertones coupled with its comment on class distinctions and exceptionally funny script take the play to a level which others struggle to emulate.
Ayckbourn's observation that people congregate in the kitchen at parties leads to improbable but credible situations. Sympathy and antipathy switch from one character to another as the action moves to different couples' homes and their relationships change more quickly than the flashing lights on a Christmas tree.
The first act of Absurd Person Singular, set in the '70s, introduces us to Sidney Hopcroft, a social-climbing contractor, and his wife Jane, who's obsessed with keeping spotlessly clean their kitchen with its garish, orange cupboards and doors. She's dotty and frightened that she'll embarrass her husband and let him down in front of their guests who have more social skills.
Their first guests are Ronald and Marion Brewster-Wright, a banker and his privileged wife who's all show and doesn't know anything about housework.
In contrast, Geoffrey Jackson is an aspiring architect who's destined for a sparkling career while his wife Eva is already becoming inconsequential to him; she's curt, hooked on pills and describes herself as "an embarrassing smudge on a marriage licence".
Over the course of the play, Joseph Alessi cleverly changes from the prudish, eager-to-impress Sidney into a successful businessman who the others realise has moved into a position of power.
Leigh McDonald deftly metamorphoses from a socially inept, downtrodden wife whom the audience can feel sorry for into a deliriously happy partner who wants her effervescence for life to rub off on everyone around her.
The Jacksons come to the fore in the second act when the action moves to their more upmarket flat with its lilac and purple fittings. Geoffrey tells Eva he's leaving her to live with another woman and Eva becomes suicidal.
Tracy-Ann Oberman gives a stellar performance here as Eva, saying hardly anything as she hilariously tries a number of ways to end it all while the others simply don't take in what she's trying to do. With a number of looks full of expression, she's frustratingly thwarted again and again before leading everyone in a wild rendition of The Twelve Days of Christmas.
Jason Thorpe impressively shows Geoffrey as a selfish man who can't understand why he's having so many problems in his life as his business literally collapses and his wife won't pull herself together.
There are also outstanding performances from Sion Tudor Owen as Ronald - his near-electrocution is stunningly good - and Louise Plowright (Marion) who by the third act has become a gin-saturated, cynical embarrassment.
Juliet Shillingford's design gloriously brings to life the three vastly different kitchens while director Paul Kerryson expertly gets the best out of his cast.
But why did he have to resort to the gimmick of having a black-and-white photo of Margaret Thatcher on stage before the start as well as taped broadcasts of her election victory? It's been argued that the play predicted Thatcherism - but the reason for her presence escapes me.
This production of Absurd Person Singular is absolutely terrific and doesn't need any gimmicks to make it stand out.
"Absurd Person Singular" runs until May 28th
Reviewer: Steve Orme