The BFG
Written by Roald Dahl, adapted by David Wood
Produced by Fiery Light and Royal & Derngate
Royal & Derngate, Northampton, and touring
(2009)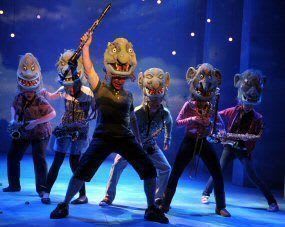 A play that starts out loud and brash, almost seeming to promise an evening of patronising children's TV, turned out, in the end, to be a gentle retelling of a warming story that is a fine example of theatre for young people.
The BFG, currently touring and playing at The Royal, Northampton is just one of Theatre Company Fiery Light's repertoire of performance for children and young people. It is well worth catching for a whole host of reasons.
The first is the story itself. David Wood, who has experience of working with Roald Dahl's work, has faithfully adapted the narrative, whilst retaining lots of the colourful and imaginative language, so expertly dreamed up by the creative mind of Dahl.
Second - and perhaps most key - is the cast. An energetic and dedicated company of actors with instruments bounce around the stage with a commitment to telling the story. Physicality (especially of the evil giants) is well thought out and executed at all times.
Special mention perhaps needs to be given to the BFG himself, played by Anthony Pedley. Pedley is soft and gentle without being patronising or sweetly sickening. His understanding of the role is clear, through his relationships with the other characters but also in his delivery of the often complex and strange language.
Pedley has played the role over 1400 times and although one could grasp his familiarity with the text, he still seemed delighted to be in the show and this emanated to the audience - his was an energetic, strong performance.
Added to this quality of performance, was the detail of Sean Crowley's design which pulled no punches with the (quite scary, even for an adult) villainous giant masks and bold backdrops. Whether it was Crowley who decided on the use of puppets or director Phil Clark's decision, their use was cleverly intertwined with the story. From the tiny Sophie to the huge BFG, their inclusion cleverly played around with contrasts of perspective that helped, not hindered the performance.
Finally, this was a play for children that respected their intelligence and their ability to stay awake. Everything, including the running time was perfectly formed in a warm and gentle package that left smiles on wide awake faces.
"The BFG" plays at Royal & Derngate, Northampton until Saturday March 28th, 2009
Reviewer: John Johnson