The Dumb Waiter and Other Pieces
Harold Pinter
Bristol Old Vic Studio
(2006)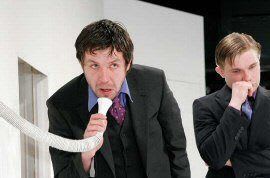 Credit where credit's due to Bristol Old Vic for this tribute to the grand old man of British theatre, Harold Pinter. Shamefully, this is only the second acknowledgement by British theatre of Pinter's 80th birthday apart from a double bill at Notting Hill's Gate theatre. Nicholas Hytner hang your head.
Director Simon Reade offers up five short sketches and one 'poem', which span Pinter's career, before the main attraction, a revival of The Dumb Waiter. All are performed by two actors - Jonathan Broadbent and Ferdy Roberts.
Press Conference (2001,) performed by the playwright himself at the London premier five years ago, showcases Pinter's overtly political writing. "Critical dissent is acceptable", the Culture Minister and former head of the secret service tells a journalist, "if kept at home, under the bed, next to the piss pot."
This segues seamlessly into American Football (1991), a "reflection" upon the Gulf War which, alas, is not Pinter's finest hour. "Hallelujah? It works. We blew the shit out of them. We blew the shit right back up their own ass." The 'poem' drew a withering appraisal from Don Paterson who suggested Pinter stick to what he did best, writing plays, rather than trying his hand at poetry. I liked, however, Jonathan Broadbent's wry impersonation of George W Bush.
Precisely (1983) finds two senior Whitehall mandarins discussing the number of dead - "twenty million dead, precisely" - over a pint. The exact scenario is not spelt out but what Pinter deftly combines and contrasts is a surface urbanity and ordinariness which belies the cynicism and brutality of a totalitarian state.
The Coast (1975) and That's Your Trouble (1964) pre-date Pinter's more overt political writing, the latter consisting of a comic argument between two non-specific men who fall into a heated debate over a man wearing a sandwich board. Man one asserts he will have a headache; his companion a neck ache, tension, unlike heat, descending, rather than rising. The cooler, matter-of-fact tone of these two pieces play to the two young actors' strengths whereas Press Conference lacks the necessary edge of menace and mordant humour Pinter undoubtedly intended and embodied in his own performance.
We travel back a further three years in Pinter's career for the second half of the night's proceedings, a revival of The Dumb Waiter, the first since the Oxford Playhouse's production directed by Douglas Hodge two years ago. Curiously I was struck here by how much the play reminded me of a recurring Morecambe and Wise sketch. One man lies in, or on, a bed, trying to read, while his restless male companion, much to the other's chagrin, repeatedly irritates him by his actions and unwanted and banal conversational sallies.
For anyone unfamiliar with Pinter, the play is a good starting point. Rooted in a clear situational reality which gradually reveals itself- two hitmen hole up in the basement of a former Birmingham restaurant while they wait for details of the 'job' - the piece has two strongly defined and polarised characters - Ben, (Broadbent) the consummate professional and senior partner whose reticence and surface calm hide a deep streak of anger, and Gus (Roberts), sloppy, garrulous, whose trouble at the recent execution of a woman hint at a psychological unravelling. In addition, there is some superb comic business involving the dumb waiter, a service lift used to transport food from the kitchen to the restaurant above. A series of notes demanding increasingly elaborate dishes begin to arrive - the first, asking for soup, is followed by orders for Greek and Chinese food culminating, with wonderful bathos, in one for scampi.
The all-white interior by Garry Ferguson, modern furniture and suits, are at odds with the period newspaper being read by Ben as the play opens. Pinter's early plays are period-specific and steeped in threadbare post-war austerity, while the interior here brings to mind rather a 1970s Robert Ryman canvas.
Jonathan Broadbent turns in a creditable performance as Ben, looking on in furious disbelief as Gus repeatedly puts on, laces up and removes his shoes, but Ferdy Roberts' amp is turned all the way up to 11 from the off, leaving him nowhere to go to. Simon Reade also takes an age to bring the lights down at the end of the final scene. Was he going for a Guinness Record? Still, despite reservations, the evening showed if nothing else that Pinter can still attract, captivate and entertain a wide-ranging audience. Hopefully too, the staging by Bristol Old Vic with that of the Gate will shame others into further productions.
Reviewer: Pete Wood