Far Away
Caryl Churchill
Bristol Old Vic
(2010)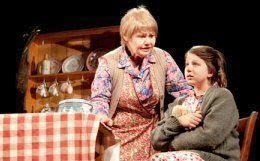 The Bristol Old Vic's Artistic Director, Tom Morris, is laudably committed to building the theatre's reputation with a series of bold and challenging programming choices. In this vein, director Simon Godwin wanted to make his directorial debut at Bristol Old Vic with a highly contemporary play; a surprise; something he describes as a "firecracker".
And it doesn't get more contemporary than Caryl Churchill. Far Away is Churchill's hopeless vision of a society driven by fear and teetering on the brink of self-destruction. Three snapshots of time make up the 50 minute piece; each gives us the briefest of glimpses into the apocalyptic life and times of one woman, Joan, as she grapples with a brutal and engulfing paranoia.
Churchill is undoubtedly an acquired taste. If I'm honest, the searing futuristic, absurdist pessimism of the text isn't for me. None the less, Godwin's production is unquestionably engaging. The cast perform with an effortless, straightforward simplicity, well-pitched to set off the complex, surreal text. Young actress Eleanor Bailey makes her professional debut as the affecting Young Joan, and Cara Horgan (Joan), Annette Badland (Harper), and Tristan Sturrock (Todd), succeed in carrying off their part in this nightmarish world with a brutal and uncluttered honesty.
Lizzie Clachan's design is breath-taking. From the cloistered comfort of a farmhouse kitchen in Act I, to the cavernous industrial steel of the hat factory in Act 2, the design is innovative and inspired. And it more than achieves Godwin's intention to explore the space and "celebrate the architecture" of the theatre.
And when the evening leaves you with more questions than answers, as it inevitably will, talk it through with the impressive cast of post-show guest speakers Godwin and Morris have lined up, including the likes of Jon Snow, Polly Higgins, Max Stafford-Clark and Greta Scacchi.
Runs at Bristol Old Vic until June 9th
Reviewer: Allison Vale