Ghosts
Henrik Ibsen in a new version by Frank McGuinness
Bristol Old Vic
(2006)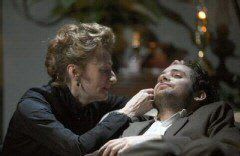 Robert Bowman's Ghosts is a triumph of intuitive direction. Bristol Old Vic's new Associate Director has here crafted a tight ensemble, and text and subtext are delivered with a fine and lilting precision. Bowman admitted in a post show discussion that he had approached the play with a firm preconception that Ibsen would prove to be a lesser storyteller than his favoured Chekov. The rehearsal process, he says, changed his mind: he says he came to realise just how truly great Ibsen's characters are. This production pays tribute to this. Bowman also said the three week rehearsal period was, "a white knuckle ride", but maybe this too has worked in his favour: the production thrives on its exhilarating pace.
Frank McGuinness has worked the same magic here as with Strindberg's Miss Julie, seen in Bath last summer as part of the Peter Hall season. The period Irish setting works as well here as it did with the Strindberg: McGuinness has an easy empathy with all that isolation, rigidity and oppression with which Ibsen was most concerned. It applies as much to the staunchly conservative nineteenth century Norwegians as it does to the Victorian Anglo-Irish aristocracy and the disempowered Irish nation.
Sam Crane's Oswald is an outstanding portrayal of a tormented, confused and syphilitic youth. His nervy, tortured characterisation is compelling and the complex emotional relationship he has with his mother (played by an angst-ridden but doting Sian Thomas) is equally so. He moves and talks with all the easy disregard for convention of youth and his duty-bound, privately tormented mother can only hang on his every word.
McGuinness has Oswald struggle in grammatical confusion, even as his mind fails, to assert his final wish for release from an interminable living-death as "a sick fucker" as he begs for the sun. However Thomas's struggle to face this final duty (to release her son with a fatal dose of morphine) is somewhat over-egged, disappointingly detracting from an otherwise powerful performance.
Simon Shepherd's Pastor Manders has all the straight-backed rigidity of a man for whom convention and respectability is everything. He is fuelled by a narcissism that Shepherd hints at in the opening scenes, as he privately checks his reflection in the mirror. Shepherd commented after the show that for him, Manders is grounded by the most important relationship in his life: that with Mrs Alving. He sees Alving as Manders' "touchstone", so that when she finally rejects him, he breaks down. Shame then, that this did not result in some small degree of sexual tension between the two, however long-repressed it may have been.
Séainín Brennan's Regine is potent and authoritative, bustling with all that determination and barely suppressed rage that so befits a people oppressed. Brennan has Regine make use of convention in order to progress; she won't allow it to constrain her. She is perfectly prepared to use her quiet sexuality to secure her future, without ever compromising that proud and unguarded dignity which Brennan brings to the part, and which helps stand Regine apart from the other characters.
John Stahl's Engstrad, a gritty, towering powerhouse, is equally open to a spot of simpering sycophancy if it means he can use the respectable ruling classes to further his own end.
The class struggle fuelling both these characters has the McGuinness, rather than the Ibsen, hallmark: class consciousness was not, as Bowman pointed out after the show, part of the Norwegian cultural heritage. But it adds seamlessly to Ibsen's multi-dimensional sub-text, so that even the burning orphanage carries a faint echo of the early Irish nationalist movement.
This is a dynamic re-working of a great storyteller; well-crafted, expertly directed and powerfully presented.
"Ghosts" runs at Bristol Old Vic until February 17th 2007
Reviewer: Allison Vale