Uncle Vanya
Anton Chekhov
Bristol Old Vic
(2009)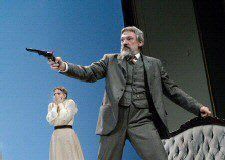 The re-opening of Bristol Old Vic, one of the country's oldest and most venerable theatrical institutions under a new adminstration, is cause for celebration. Visits to the venue under the hapless artistic direction of Simon Reade made for a dispiriting night indeed. Now it is renovated and with a new remit of producing in theatre in partnership with other arts groups in the city.
One of the first fruits of this new approach is a joint production of Chekhov's Uncle Vanya with Shakespeare at the Tobacco Factory director Dan Hilton.
With a fine version of Three Sisters a few years ago the outlook for this outing were good. Hilton's trademarks are an attention to the text above all, ensuring a clarity of approach and of speech, together with an eschewal of 'concepts'.
However, I have to report that the chorus of praise for this production from many quarters seems to me utterly misplaced. Of course I wouldn't want to begrudge the theatre any measure of success given its recent travails, but to assert, as one Sunday newspaper has done, that this was one of the ten very best theatrical productions of the year - the only regional one - is ridiculous.
Much has been made of the revelatory mining of comedy in the production. In fact the handling of comedy seemed to me to be hammy in the extreme. As Pinter remarked of his own work, "It's funny up to a point - and then it isn't". For a producer as fastidious as Hilton I am surprised at the misjudgement.
I winced on behalf of Simon Armstrong as Vanya who began a peroration in an early scene cranked all the way up to 11 and then found himself with nowhere to go except on and on in the same way to increasingly tedious effect. But if Armstrong was perhaps the weakest link, there was not a lot else to compensate. Ian Barritt, as Serebryakov, a retired professor of art and the object of Vanya's spleen, was similarly far too broad too early in his approach.
David Plimmer as Telegin, an impoverished landowner, by contrast, found a far more balanced tone, while there was decent support from Alys Thomas as Yelena and, to a lesser extent, Daisy Douglas as Vanya's niece Sonya.
It's good to see the Old Vic back in business, staging classic work and being well-supported by local theatregoers many of whom, I admit, seemed to share the enjoyment of the production. I can only wave across leagues of ocean.
Reviewer: Pete Wood