The Beauty Queen of Leenane
Martin McDonagh
Octagon, Bolton
(2005)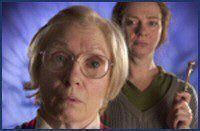 The Beauty Queen of Leenane was Martin McDonagh's first stage play, which he wrote after failing to have any success writing screenplays, radio plays or short stories. It opened in Galway in 1996; three years later in 1999, he was said to be the second most performed playwright in the USA after Shakespeare.
The play is billed as a black comedy, and it is certainly very funny and very dark, with some quite horrific moments later on. Maureen - the 'beauty queen' of the title - is forty years old and has spent most of her adult life looking after her aging mother, Mag. However she does not bear this sacrifice lightly and despises her mother for taking away her chance to have a life of her own. When a man does come and offer to take her away from this life, Mag does her best to spoil things so that she does not lose her nursemaid.
The Octagon has created a wonderful production of this play under the direction of Paul Hunter. The humour is brought out to the full without shrinking back from the full horror of the more unpleasant moments. Eileen O'Brien as Mag is grumpy, irritating, demanding, scheming and quite disgusting (there is a running gag about her emptying her chamber pot into the kitchen sink, even when there are dishes in it) - think Albert Steptoe but female and Irish. Maggie O'Brien (no relation offstage to her onstage mother) is excellent as the put-upon daughter Maureen who seems to deal with her situation with complaints and insults but has some very dark feelings that sometimes take over. Maureen's potential suitor, Pato, is played by Ged Simmons with great sensitivity. The role of Ray, Pato's younger brother, is really just that of a messenger, but the character is written as an irritable young man who complains about everything he is asked to do and insults everyone, played perfectly and with a great deal of humour by Paul Dinnen.
The whole play is set in the same location - Mag and Maureen's kitchen, designed by Fiona Watt - and not much happens for much of the time, but it still manages to include domestic conflict, romance, politics and a great deal of very funny humour, and the Octagon's production gets the best out of McDonagh's script.
"The Beauty Queen of Leenane" runs until 19th February
Reviewer: David Chadderton