The Beauty Queen of Leenane
Martin McDonagh
Theatre Royal, York
(2004)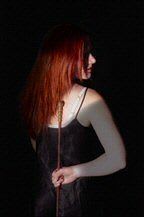 Sentimental stereotypes of Ireland and the Irish have long been a staple of popular entertainment in England. Quaint stone cottages, peat fires, beautiful colleens and grey-haired old mothers in their rocking chairs are just a few of the images that spring to mind, and Martin McDonagh gleefully takes a sledgehammer to them all in the deliciously nasty Beauty Queen of Leenane. This tale of family strife, torture and lumpy Complan was his first play and was showered with awards when it appeared in 1996.
The Beauty Queen of Leenane revolves around Mag (Tessa Worsley), an elderly woman living with her unmarried daughter Maureen (Marianne March) in the wilds of Connemara. The phrase "I hope I die before I get old" was probably inspired by a senior citizen very much like Mag - ungrateful, unhygienic and thoroughly unpleasant, she treats Maureen like an unpaid servant and is oblivious to the fact that a forty year old woman might long for a life of her own. No wonder Maureen's married sisters have forgotten their mother's birthday two years in a row
A last chance for romance enters Maureen's life in the form of Peto (Paul M Meston), a local man who usually works as a builder in England but is visiting Leenane for a family party. They spend the night together, Peto returns to England and writes to Maureen, asking her to start a new life with him in America. But he entrusts the letter to his unreliable brother Ray (Jamie Beamish) and the letter ends up in Mag's hands. Will she open it? Will Maureen escape from a life of feeding chickens and bickering with her mother? Will Mag ever get off her backside and make her own feckin' Complan?
The cast, under the direction of Marcus Rohmer, are uniformly excellent. Marianne March conveys Maureen's bitterness at the waste of her life, Paul M Meston makes the most of the kind-hearted Peto - his "morning after" encounter with Mag is a gem - and Jamie Beamish is hilarious as Ray, still simmering with resentment against Maureen for confiscating one of his toys ten years ago. But almost inevitably Tessa Worsley steals the show as Mag the malodorous matriarch ("Your house smells better since your mother died," says Ray after Mag has come to an awful end - I won't spoil the shock by giving details).
Full marks too for Liam Doona's set, which features an old-fashioned cyclorama, a smoking chimney and a cottage interior including the kitchen sink without which Mag's toilet facilities would be incomplete. The Beauty Queen of Leenane is another winner for the Theatre Royal.
At the Theatre Royal, York, until 27th November
Reviewer: J. D. Atkinson