Beauty and the Beast
Birmingham Royal Ballet
Sunderland Empire and touring
(2008)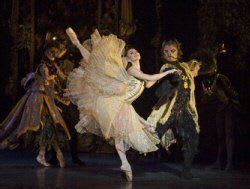 It is just a few weeks since the West End Disney musical Beauty and the Beast came to Sunderland, yet Birmingham Royal Ballet still had a packed house at the Empire on the opening night of its version of this timeless classic - proving a universal popularity for the story in whatever form.
This time talking clocks and tea cups were replaced with enchanted woodland creatures. The glitz and the glamour stripped down to the original folk myth, yet equally if not more mesmerising - its story brought to life through wonderfully choreographed dance (David Bintley), lavish sets (designed by Philip Prowse) and costumes, and a stunning score by Glenn Buhr. Mark Jonathan's haunting lighting put the perfect finishing touch to this captivating production.
Robert Parker makes a triumphant return as the Beast - having ditched his tights back in 2007 to pursue a career as a pilot. And all was forgiven as he took to the role and the stage in effortless fashion, commanding every second of our attention.
Nao Sakuma was captivating as the beautiful Belle and the ball scenes, particularly the fantastic gathering of creatures, were among the most memorable.
Reviewer: Emily Taylor