Galanteries; The Dance House; Elite Syncopations
Birmingham Royal Ballet
York Theatre Royal and touring
(2008)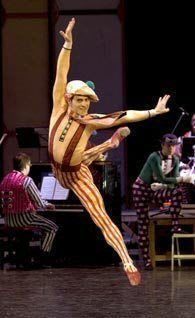 Contrasting courtly manners with a dance of death and ending the performance with rag-time jazz, the outstanding Birmingham Royal Ballet present an evening of memorable images.
The programme begins with David Bintley's elegantly choreographed Galanteries in which twelve dancers glide amongst each other, incorporating the courtly manners that inspired the piece. Set to Mozart's Serenade (K101) and Divertimento (K205), the piece reflects the music's a light and graceful character, and the dancers maintain a strict air of the reserve of courtly etiquette. While designer Jan Blake's grey, flowing costumes add to the united tone of the dancer's movements, the graphite backdrop somehow brings both an edge and a harsh note to the piece. Sadly a small mistake between three dancers on the night of attendance left the company feeling a little displaced and the performers did not quite seem to retrieve their confidence and usually perfect timing throughout.
However undoubtedly the highlight of the night was Bintley's The Dance House, first choreographed after the death of a friend and originally inspired by a medieval poem using the title as a metaphor for death. With Lisa J Pinkham's fabulously effective and impacting design the figure of death, a male dancer dressed in blue, randomly selects one of the identical girls at a ballet class. In the second movement a pair grieve for their friend, performed mesmerizingly by the two dancers, working perfectly together. Finally, in the third movement, the blue boy returns to seize control of the Dance House and dance them all to death. The extremely impressive cast presented an excellent performance, dramatically danced and brilliantly designed, leaving the audience with a striking memory.
For the third and final piece of the evening the company danced choreographer Kenneth MacMillan's Elite Syncopations to the fantastic rag-time music of Scott Joplin and others. The stage is stripped back to reveal the back wall and, with the band in full, colourful costume, the dancers sit round the space on chairs as different performers take their turn to interpret the joyous music. Costumed in the most fantastic, playful one-piece lycra body suits, pairs, singles, trios and quartets sweep the audience into their delightful performance. Two stand-out performers really deserve praise: firstly, Kosuke Yamamoto for his wonderfully witty and cheeky performance, catching the audience's laughter at any moment he could in this final piece, not to mention his searing precision throughout the evening as a whole. And secondly, Celine Gittens as the baton waving, American majorette figure who performed with mesmerising grace and serenity whilst maintaining every bit of the humour and show stopping sheer vivacity that the piece offers. The audience clapped and laughed as the company really took off with this final exuberant piece.
With music by the perfect Royal Ballet Sinfonia, as ever Birmingham Royal Ballet are not to be missed for their matchless creativity and style.

Philip Seager reviewed this triple bill in Sheffield
Reviewer: Cecily Boys