Quantum Leaps
Birmingham Royal Ballet
Sunderland Empire and touring
(2009)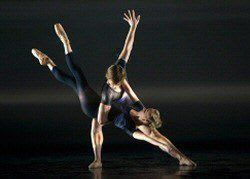 There is something very dependable about a David Bintley ballet, a comfort that quality and precision at the very least will be enjoyed. But Quantum Leaps pushes the boundaries of traditional dance and its expectations. Inspired by Einstein's theory of relativity, Quantum Leaps is made up of three one act ballets that explore the ideas surrounding speed and mass.
The audience is led gently into this new terrain with a recognizable Mozart score, a set of architectural beauty and an array of handsome dancers in Powder. Yet their fleshy, flimsy costumes and flirtatious routines (choreographed by Stanton Welch) gives it a definite sexual and contemporary edge.
In sharp contrast Bintley's E=mc² makes a much darker entrance, using more stylized choreography, divided into four movements to translate the elements of the world's most famous physics formula. Supported by a powerful, discordant sound from Matthew Hindson, the dancers are almost tribal in their routines. The second movement dips into slower, heavier dance and softer chimes before returning to almost painful, thunderous crashes. In the final movements light becomes the significant element, with neon projections and a blinding wall of light supporting a fast-moving shoal of metallically clad dancers.
In the third and final piece The Centre and its Opposite Bintley hands over the reigns to Garry Stewart, artistic director of Australian Dance Theatre, for a hugely physical, synthesized performance set within the surrounds of imposing cylinder lighting, which at times almost seems to battle with the magnificent dancers.
For seasoned ballet-goers Quantum Leaps offers a new and challenging journey and for those new to the art, its short and powerful movements would I am sure prove a manageable and diverse introduction.
BRB is at Sunderland Empire until 7th November and then goes to Sadler's Wells
Reviewer: Emily Taylor