The Sleeping Beauty
Birmingham Royal Ballet
Sunderland Empire and touring
(2010)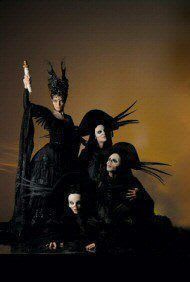 Fresh from a triumphant and Laurence Oliver nominated contemporary production of E=mc2, the Birmingham Royal Ballet return to the Sunderland Empire with a truly traditional production of a fairytale classic.
The curtains opened to a set of such grandeur it raised gasps from the audience. A good start. Steeped in gold opulence and lavish costumes, Peter Wright has, with the help of designer Philip Prowse, revived his original 1984 production with elegance and sparkle.
A highlight of the prologue is undoubtedly the dramatic arrival of the evil Fairy Carabosse, (played wonderfully by Marion Tait), who is more than a little put out at being omitted from the happy occasion of Princess Aurora's birth.
Nao Sakuma and Chi Cao are positively flawless as our two leads. Indeed Nao's opening solo is spell binding as she pirouettes as effortlessly as a doll in a musical box.
The excitement and liveliness of the first half make way for misty enchantment as the Prince delves deep into the forest to find his true love. But exuberance is reignited as our lovers are wed, performing an effortless pas de deux and with playful interludes from some favourite fairytale characters. Particular mention should go to Robert Gravenor and Sonioa Aguilar as the delightful Puss-in-Boots and White Cat.
With the Lilac Fairy restricted (though effectively I might add) to mime, Andrea Tredinnick does a commendable job of keeping this non-dancing character at the forefront of the narrative.
An earlier start would have perhaps prevented the little ones in the audience from missing out on the last half hour of magic.
Touring to the Theatre Royal Plymouth, The Lowry and the London Coliseum
Reviewer: Emily Taylor