George's Marvellous Medicine
Roald Dahl, adapted by David Wood
Birmingham Stage Company
Wyvern Theatre, Swindon, and touring
(2010)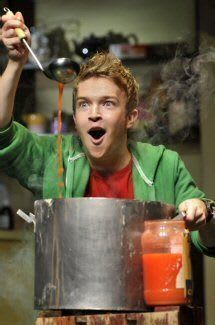 The Birmingham Stage Company is one of the leading producers of theatre for children. They have embraced Roald Dahl's stories, having previously toured The Witches and James and the Giant Peach, in their own inimitable style.
At The Wyvern in Swindon they presented George's Marvellous Medicine and it was a marvellously exuberant production. Jacqueline Trousdale's colourful set was a joy, a ramshackle farmhouse on several levels with all the noise of the farmyard animals underscoring the action in Tom Lishman's vibrant sound design.
Clark Devlin perfectly captured the boyish enthusiasm of our hero George who is on holiday spending time reading his book about wizards and spells as well as helping round the farm as times are difficult.
But this idyllic bliss is soon shattered with the arrival of the terrifying Grandma. Erika Poole is the grumpiest, most demanding and exasperating of Grandmas. On being asked by George's homely mum (Alison Fitzjohn) whether she would like a drink she demands gin. This is not going to be a comfortable stay.
George is constantly at the beck a call of his Grandma's irritating bell summoning him to do her bidding and give her her medicine which is not making her any better. She is a horrid old hag.
He decides to make a magical medicine using a large pot to mix in the most unusual ingredients including lipstick, toilet cleaner and even paint from the garden shed. The audience all help by shouting out, "in it goes" in true panto style. All great fun.
The potion makes matters worse and Grandma grows and grows until she crashes through the roof. The whole family are astounded. Dad (Richard Mullans) sees the potential in feeding the medicine to the animals who grow in size and the giant chicken (Jason O'Brien) lays huge eggs which George's hardworking dad sees as the future of the family's fortune and solving the world's food problems.
Having used up all the medicine they need to recreate it - another cue for audience participation. But this new batch has the reverse effect and it shrinks the animals and grandma!
Roman Stefanski's loveable puppets from pigs to chickens were a delight and director Phil Clark kept the whole play whizzing along at a cracking pace.
George's Marvellous Medicine is wonderful fun for all the family and the audience adored it, but we were also warned "not to try this at home". Sound advice!
Reviewer: Robin Strapp