Skellig
David Almond
The Birmingham Stage Company
Lyceum Theatre, Sheffield, and touring
(2009)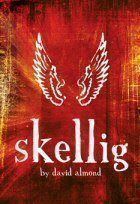 This is a simple story with exceptionally complex undertones. It is all about a Newcastle schoolboy of ten, Michael (played by Dean Logan), who finds someone/thing hidden under the rubbish in the garage of the house into which the family has just moved. His parents are preoccupied with his brand new sister - they have not named her yet - and want him at school, out of the way.
Michael is puzzled by his discovery, who takes little notice of him and also wants him out of the way, but is won round by supplying him with 27 and 53 - two portions from the menu of the local Chinese restaurant, which Michael and his father initially share.
He then teams up with Mina (Charlotte Sanderson), a most forceful young girl who is taught at home by her mother as they believe school is too narrow in its focus - we even get lessons in biology and anthropology to make the point, elaborated by quotations from William Blake. He and Mina take their new-found friend to a deserted house and establish him there by feeding him on 27 & 53. Later he grows wings and declares himself to be Skellig, a mystical figure whom Neal Foster has some difficulty in representing convincingly.
Much is made of the concern over the health of the baby, who is admitted to hospital, and whose rapid heartbeat is transmitted to Michael while he and Mina look at the new fledglings - there is even a joke about two tits flying by - while four of the company are musical as well as actors and supply a background which sometimes develops into foreground obscuring the voices.
Much is made of the flying, with the shoulder blades being incipient, or perhaps attenuated wings in most of us but there to break forth if matters turn out appropriately. It is indeed a complex scenario, but an interesting one.
Reviewer: Philip Seager