Treasure Island
From the book by Robert Louise Stevenson, adaptation by Stuart Paterson
Birmingham Stage Company
Theatre Royal, Newcastle & Touring
(2008)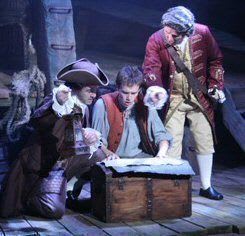 Pirates are popular once again, thanks mainly to Johnny Depp in Disney's smash hit Pirates Of The Caribbean, so its no surprise kids come out in force to see Birmingham Stage Company's new touring production. Do the children find the treasure they seek?
This Island has only a small treasure to boast and that is the great set design by Jackie Trousdale. Newcastle-born Trousdale has provided many great sets for the BSC over the years and this is no exception. Her design, which wouldn't look out of place in a theme park, provides a great base for action that takes place in taverns, ships and, of course, a desert island. Each setting is transformed easily by the cast and flows very nicely indeed.
Sadly not all performances flow nicely. John Cockerill as brave and loveable shipmate Jim Hawkins lacks energy and passion, providing little sparkle to this treasure. Gavin Robertson's Long John Silver was more Sir Michael Cain than a grizzly sly sea dog. However, one good performance did sail through: Christopher Llewellyn as Ben Gunn was both bright and funny, lifting the second half.
The cast certainly weren't helped by the low standard direction and even worse fight choreography. There was very little action or excitement in the either direction, leaving the big set-pieces flat and as dull as dishwater.
Lacking the heart and fun of The Jungle Book, The BSC's production of the classic Treasure Island just doesn't provide the same entertainment as their past shows. They have dropped the ball, but with all their past success I'm sure they will be back on form.
Reviewer: Wayne Miller