The B File
Deborah Levy
Kernawells Theatre Company in association with Weaver Hughes Ensemble
Etcentera Theatre
(2007)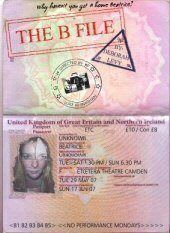 Fringe theatre tends to get a bad rap, but when you consider the factors - small or invisible budget for production, unpaid performers, limited time for rehearsals and the overriding pressure to get the audiences in every night - it becomes a little more understandable. So, when you do go to see a play that overcomes all these obstacles though creativity, talent and passion, you know that you (the audience) are witnessing a winner fringe production. The B File is this winner with its all female cast and its overwhelming presence: it turns a simple story of identity into a deeply layered commentary of perception and reality.
Who is B? Is she a character or a persona of her former self? Does she reinvent herself to stay alive, or does she exist only to reinvent herself? The answer to these questions are not as important as actually thinking about them and it is this journey of contemplation that is the most intoxicating. The philosophical question of 'Who are we?' is addressed without the need of a cliché, without the need of taking itself too seriously, and without ever become tired or boring - though it does become a bit repetitive and follows a schematic structure throughout the play that becomes a little predictable.
Directed with pure freedom of creativity by Luke Kernaghan, this production of The B File captures the mystery as well as the comedy of everyday life, love, and the ultimate need to be loved. Visually, the black box theatre becomes a Pandora's Box - or should I say suitcase - of lost dreams and missing keepsakes. The transformation from real to imaginary weaves in and out throughout the whole play, making this a truly enjoyable and visual experience.
The opening quote on the program reads "One women. Five bodies. A physical exploration" and this appropriately summarises The B File. Laura Murry gives a powerful and convincing performance, as Beatrice Four, Lucy Cudden offers a more emotional side of Beatrice One, while Beatrice Five, played by Amy Cudden has natural comic timing. If you want to know what Beatrice Two and Three get up to, then you had better go and see the play!
The B File runs until the 17th June and is definitely a rough gem. Do yourself a favour and experience good theatre at fringe prices.
Reviewer: Lennie Varvarides