C-90
Daniel Kitson
The [email protected] egg, Bath and touring
(2006)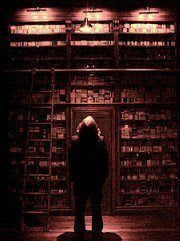 The [email protected] egg should congratulate itself on the occasion of its first production in the cosy surroundings of 'the egg' at the Theatre Royal, in use this season for adults as well as youth theatre for which it was designed, while the Ustinov proper undergoes a revamp.
Daniel Kitson's award wining one-man show, C-90, set in a nameless 'facility' where discarded compilation tapes have been painstakingly stored by bachelor Henry, has everything one could ask for of a piece of new writing for theatre. An intricate and scintillating plot, with a cast of characters, seductive in their complexity and some challenging themes, all make for a great piece of theatre. Alone on stage for seventy five minutes, Kitson tells his monologue with spell-binding simplicity. C-90 is Jackanory for grown-ups.
Kitson enters the set through a door centre stage and instantly you sense you're in for a good night. In faded brown moccasins, slacks, and a jumper that's just the tiniest bit too short, topped off with a jacket that's seen batter days and an impressive amount of facial hair, Kitson is every bit the Real Ale drinker.
He delivers the story at break-neck speed, punctuating it with a catalogue of idiosyncrasies: tapping his spectacles further up the bridge of his nose, rubbing his nose, and swallowing spittle, mid phrase. And, just like Jackanory, there are barely perceptible pauses, where he draws breath and crosses to another part of the set, and you are aware that he has turned the page on another chapter. It's mesmerising.
The focus of the story is Henry, facing his last day of employment, and as the story begins Henry is overcome with a sense of anti-climax, "why was everything such an unmitigated let down?"
The 'facility' in which he works is housed within a village and Kitson spins a fascinating web of relationships, as well as the hidden private lives of some of its inhabitants. Particularly memorable are the lollypop lady, fond of learning people's middle names and of lengthening abbreviated ones: "It takes a genuinely kind heart to willingly utter unnecessary syllables". And Jessica, the vet who offers free veterinary care to any animal she has injured whilst driving, of which there are many, with the result that she is forced to close her "self-perpetuating but entirely unprofitable veterinary practice".
The text hones in on the minutiae of the lives of the characters, so that the whole is reminiscent of Nicholson Baker-meets-Alan Bennett, and is utterly compelling.
Ultimately, Henry is presented with a challenge with which he can pass the hours of his last day, and comes to rediscover what once made him proud of his work, as a "chronicler of hope" in a "catalogue of muddy dreams".
It is clear why this show has received the accolades it has, (Fringe First at Edinburgh 2006; Stage Award for Best Solo Performance, 2006): C-90 is a remarkable piece of writing and an hilarious production. Though it will continue to tour throughout the year, both here and abroad, Kitson will also open his next one man show, It's the Fireworks Talking, at the Regent's Park Theatre in London in June, before taking it to the Edinburgh Fringe.
"C-90" is at the [email protected] egg until February 17th, and tours in March to Liverpool Everyman; Warwick Arts Centre; Cambridge Junction; Cardiff Millenium Centre; Manchester Lowry and the Oxford Playhouse and at the Brighton Arts Festival in May, where it will be filmed for BBC4, before an international tour including the Sydney Opera House, and PS122 Theatre in New York, returning to London in December, venue to be confirmed.
Reviewer: Allison Vale