Andromaque
Jean Racine
Cheek By Jowl
Nuffield Theatre, Southampton, and touring
(2009)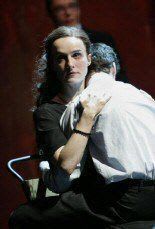 Spending some two hours in the company of a seventeenth century French playwright performed in French may not sound that inviting a prospect, but this is as thrilling and well-acted a production as you're likely to see this year.
It's also a great appetiser for the forthcoming production of Phaedre at the National Theatre in July which promises to be one of the theatrical highlights of the year. Like Phaedre this play is an adaptation of Greek classical tragedy.
Troy has fallen and Andromaque, widow of the slain Hector, is the prisoner of Pyrrhus, son of Achilles and ruler of Epirus, along with her son. Pyrrhus is in love with Andromaque but is pledged to marry Hermione, daughter of Helen.
Enter Orestes, ambassador to the Greeks, who has come to Epirus to demand the death of Astyanax, son of Andromaqaue, and hasten Hermione's nuptials. To complicate things further, Orestes is madly in love with Hermione.
Declan Donnellan's production, seen first at the Theatre de Bouffes du Nord, is stripped down. The only props are chairs; the costumes suggest the 1940s, the nine-strong cast wearing either dark, plain formal wear or military uniform.
When not taking part in the action, members of the cast sit at the rear of the stage ready to join or re-join the action.
Passion, specifically love and hate, is the leit motif with nothing in between. As Pyrrhus says, "If I can't love you with passion, I must hate you with fury." The writer and critic Lytton Strachey noted that Racine does away with every "side issue and chance of distraction". There is none of the relief afforded in Shakespeare by fools, as with the porter in Macbeth or the fool in King Lear.
This makes for a powerful, high-voltage evening, particularly with the quality of acting on display here. While this is very much an ensemble production, there are sensational, stand-out performances from Xavier Boiffier as Orestes and Camille Japy as Hermione - her mood swings are simply mesmerising.
The downside is that this can prove a little relentless at times. As TS Eliot noted, "Humankind cannot bear very much reality". But that aside, this is superb theatre and a production which sets the standard for the year ahead.
Reviewer: Pete Wood