Six Characters in Search of an Author
Luigi Pirandello, in a new version by Rupert Gould and Ben Power
Co-produced with Headlong Theatre
Chichester Minerva Theatre
(2008)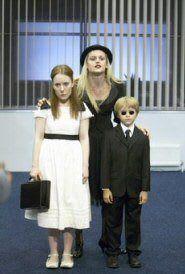 Am I here? Am I real? Do I exist at all, or am I just a figment of the imagination, and if people believe I am a living breathing person does that make me authentic or just a shadow, here for a short while before disappearing for ever? The six characters who are looking for an author (or should that be 'director' – a word which did not exist in Pirandello's Italy) insist that they are the genuine article. They are "life plus imagination" and they will live forever, long after the flesh and blood characters are dead, gone and forgotten, but first they want an ending to their story.
Death is a recurring theme in this dramatic, absorbing and brilliantly inventive production, beginning with a documentary on assisted suicide. In an editing office the producer, editor, actors and camera crew are watching rushes of their latest film - the true story of a young boy facing his imminent death with equanimity, and discussing the depth of research and attention to detail they had achieved. "We have a great ending – I mean the kid is dead!"
End of story! A successful production, and they are about to go home when the six characters - destined to play the parts written for them for ever – arrive and insist on acting out their own narrative, a passionate tale of lust, guilt, anger, bereavement, grief and violent death.
"All my work has always been a challenge to the opinions of the public," wrote Pirandello, and this production rises to the challenge in a way which might possibly have surprised, but most certainly have delighted him. Gould (who directed the sensational Macbeth last year) has used the author's tentative idea of using film to express 'the process of creation in the mind of an author', and taken this a step further interweaving film with stage, real with surreal, in a production which may sometimes be confusing but definitely never boring.
The brothel scene with The Father seducing the underage Step-Daughter suddenly switches to pure operatic melodrama when Eleanor David as The Mother bursts in on them, Adam Cork's nerve-jangling music increasing the horror. Gradually The Producer (there are no names given) find herself drawn into the lives of this exceptionally dysfunctional family and the nightmare of their tale and, finally, having given her life to her film work, a bizarre twist sees her giving it up to the same medium.
There are some spectacular performances – Noma Dumezweni taking us from the competent, conscientious business-like producer to the terrifyingly unmanageable situation which sees her rushing from the Minerva to "The Music Man" on the stage of the Festival Theatre with a dead child in her arms, chillingly bringing the present day into the tale. Denise Gough's smoulderingly provocative, yet still childlike Stepdaughter is intensely portrayed, with anger and abhorrence for the fate she suffered, with Ian McDiarmid as The Father expressing his guilt and disgust for actions which he has to endlessly repeat, and a very young Jude Loseby didn't have a word of dialogue but still managed to convey his potential as an actor. The Girl (Freya Parker) too had a silent part – especially when she 'drowned' most realistically in a large fish tank right in front of our eyes.
A complex tale, fascinating, absorbing, intriguing, compelling --- I wouldn't have missed it for the world, but I have to admit, I still can't totally understand it!
In repertory until 23rd August
Philip Fisher reviewed this production on its transfer to the Gielgud Theatre
Reviewer: Sheila Connor