The Deep Blue Sea
Terence Rattigan
A Chichester Festival Theatre Production
Chichester Festival Theatre
(2011)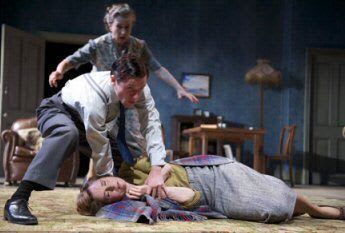 The Rattigan season, commemorating the centenary of the author's birth, has kicked off at Chichester with one of his best known plays, The Deep Blue Sea, often regarded as his masterpiece, and immovably set in the early fifties with the aftermath of World War Two still in evidence, bomb damage depicted just off stage. Mirroring an episode in his own life when one of Rattigan's lovers committed suicide, this play seems to be trying to understand the reasoning behind the action, although here the sex of the lover has been changed from man to woman. The idea of homosexual love in the fifties would have ensured that the play would never be produced - it was, at that time, illegal.
Despite the dramatic opening scene with Hester found huddled and unconscious beside a gas fire the production was slow to get started, seeming a little forced. The size of the set on the Festival Theatre's large thrust stage necessitated a lot of movement, the sound of footsteps overshadowing the dialogue, and the claustrophobic atmosphere of being trapped in an alien lifestyle was lost, but Philip Franks' production soon builds up in speed and involvement, with the intensity of emotional content almost spinning out of control.
Clergyman's daughter Hester has fallen wildly in love with Freddie, a young airline pilot several years her junior, and deserted her comfortable and respectable middle-class lifestyle with Sir Justice Collyer to live in a shabby flat in down market North London. (Ladbroke Grove has changed a lot over the years). In his turn he loves her and can supply physical love, but he cannot begin to match the magnitude of emotion and passion that Hester not only has in abundance but needs in return. A hero in the war, there is no place for him in civilian life and he spends his time playing golf - and drinking. Is it because he has forgotten her birthday that she tries to kill herself? Freddie certainly thinks so and is angrily and selfishly resentful as he complains to friend Jackie (Ewan Wardrop) of the way it will affect him. (His "It will be all over the News of the World" generated derisive laughter.)
The drama of Hester's attempted suicide affects all the other inhabitants in different ways. Of the young professional couple Philip (Joseph Drake) is logical and practical while wife Ann is concerned but excited by the drama. Susan Tracy bustles about as Mrs. Elton, a careworn landlady worried about her sick husband, but she knows just who to call to help Hester's recovery and brings the mysterious German-born Mr. Miller (Pip Donaghy), an ex-doctor who intersperses his work as a bookie's clerk with leukemia research. Anthony Calf excels as the dignified, restrained judge who would still love and cherish his wife if she gave him the chance.
Performances by Amanda Root and John Hopkins (Hester and Freddie) are so powerfully and emotionally realistic that the audience finds itself wrapped up in the drama. In the final 'will she - won't she' scenario when Freddie has finally left her we find we really care what happens to her and it is Mr. Miller who gives her the best advice that "the only purpose in life is to live it".
Rattigan delves deeply into the turmoil of emotions that can lie below the calm surface of the undemonstrative English, suggesting that it is often a feeling of unworthiness which can lead people to extreme action, well demonstrated in this finally compelling production - another of Chichester's triumphs.
In repertory until 3rd September
Reviewer: Sheila Connor