The House of Special Purpose
Heidi Thomas
Chichester Festival Theatre Production
Minerva Theatre, Chichester
(2009)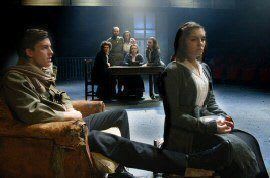 On the night of 17th July, 1918, Tsar Nicholas II and his family were brutally and callously murdered, effectively ending three centuries of Romanov reign in Russia. Imprisoned first of all in the Alexander Palace, they were then moved to Tobolsk, and finally to 'The House of Special Purpose' at Ekaterinburg where a bitingly cold spring gave way to a suffocatingly hot summer with the whole family incarcerated in totally inadequate accommodation and suffering humiliation and deprivation at the hands of their guards. The event has been well documented, taking facts from letters and journals at the time and subsequently from the testimony of the guards themselves, perpetrators and witnesses of the atrocity and 'under orders'.
Heidi Thomas has taken the facts, but concentrated on the human element - the interaction of the characters involved and the growing rapport between prisoners and jailors thrown together in close confinement for many months.
Nicholas II was nicknamed 'Nicholas the Bloody' but there is no sign of a despotic ruler in Adrian Rawlins's interpretation. Benign, conciliatory, polite yet dignified, he accepts his imprisonment with an equanimity which impresses Commandant Avdyev (Tony Turner) so much that he offers him a cigarette and allows him to finish it before continuing with his wood sawing task.
Nicholas's four daughters do not escape humiliating chores too - "They will do their own washing: tuition will be arranged" - and they accept this unfamiliar task almost with pleasure, an antidote to the boredom of life in confinement. Maria, Anastasia, Tatiana and Olga (Lydia Wilson, Kate O'Flynn, Caroline Martin and Annabel Scholey) behave as any young and energetic girls on the brink of womanhood, finding fun and playful even in their prison, with Maria's sexual awakenings drawing her to the earnest young man Yakunin (Kieran Bew) who is teaching them the art of laundering clothes.
The strongest performance is from Clare Holman as Tsarina Alix Romanov - calm, resigned and dignified, until the cruel note promising escape is found in a jar of cream, and her excitement turns to frantic despair when the contact she was hoping for is lost.
Closely related to the British Royal family and Kaiser Wilhelm of Germany the Romanovs had appealed to them for help but, in the middle of the Great War none was forthcoming. The only reference to this in Thomas's play is a wistful "Friends - I wonder what became of them" from Maria.
The youngest of the family is son Alexei (Jonathan Bailey), a haemophiliac needing (and petulantly expecting) constant care, and there is a finely judged performance from Gunnar Cauthery as Ukraintsev who remembers them all from the old days and has great sympathy for their plight. His companion and contrast is Gerard Monaco as Chelnik - the rough and ready soldier who has to be taught how to fire a gun, but really it is unfair to pick out performers individually when the whole cast work as a true ensemble, even to the extent of whisking furniture and props in and out with a military precision between scenes, with William Dudley's set becoming more and more claustrophobic as the guards put up bars and whitewash the windows.
The final scene is happily out of sight, but the gunfire and screams leave little to the imagination as Yakunin sits covering his ears to shut out the sound. Thomas has succeeded in putting a human element into a piece of history bringing it vividly to life and creating very moving and dramatic theatre.
Playing in repertory until Saturday, 22nd August.
Reviewer: Sheila Connor