Love Story
Erich Segal, book and lyrics by Stephen Clark, music and additional lyrics by Howard Goodall
A Chichester Festival Theatre production
Minerva Theatre, Chichester
(2010)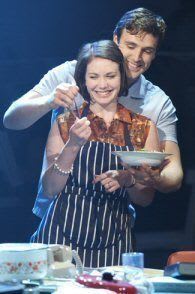 What can I say about this show without reaching for all the superlatives in the dictionary? Multi-talented and erudite author Segal sadly died of a heart attack in January this year, but had he lived he would surely have been appreciative and approving of this stage musical adaptation of the 1970s film which brought him fame and wealth yet was only a small part of his illustrious career.
For my part, this is the most romantic, tender, funny, moving, sentimental, heart-warming and finally heart-wrenching show I have ever had the privilege of attending, barely two hours from start to finish yet managing to fit in a lifetime of emotion. The packs of tissues available at the start of each performance were very much appreciated but, although it begins and ends with a funeral and the ending starts the tears flowing, the bulk of the play is happy, cheeky, irreverent and fun.
Clichéd it may be - rebellious sports-mad "Preppy millionaire" meets poor but musically ambitious "Radcliffe" girl and they fall deeply in love marrying in spite of their differences and the opposition from both families, but we can watch indulgently and with fond amusement as young and joyous love develops into what would surely have been a life-long passion, until the sudden shock of a terminal illness brings the realisation that life doesn't ever go to plan.
Sentimental, but never mawkish, this excellent and superbly cast production is directed by Rachel Kavanagh with the speed and precision of a well-drilled army unit, but with feeling and warmth, bringing out every facet of each character - the delightfully sassy Jenny Cavilleri (Emma Williams) and the obstinately rebellious Oliver Barrett IV (Michael Xavier). Overbearing and formal father (Oliver Barrett III), always addressed as 'Sir' while hiding a love for his son, is nicely portrayed by Rob Edwards, and Claire Carrie is his beautiful and sympathetic golden-voiced wife. The contrasting backgrounds of our two lovers is nicely illustrated by the formal dinner party at Oliver's home and the warm and friendly welcome given by Jenny's unpretentious father Phil (Peter Polycarpou).
Scene follows scene at high speed - and there is a multitude of disparate venues, while changes performed by the cast have the precision of a well-oiled machine, beautifully sung through, with the seven musicians creating a backdrop in Peter McKIntosh's white, elegantly curved set.
One particularly delightful scene terminated in a torrent of spontaneous applause and cheering as, in the young couple's first home, Jenny creates a spaghetti dinner in the fully functional kitchen while Oliver studies his law books - all while happily singing in conversational form to the song 'Pasta' - "As the days fly by". They proceeded to eat it too and it smelled good!
Goodall's music is beautiful and tuneful, with some very witty lyrics, and it hardly pauses for a second during the whole show - at one point echoing the original theme from the film - and defining the emotion of the moment.
Playing until 26th June
Reviewer: Sheila Connor