Oklahoma!
Music by Richard Rogers, Lyrics by Oscar Hammerstein II. Based on Lynn Riggs' Green Grow the Lilacs
Chichester Festival Theatre
(2009)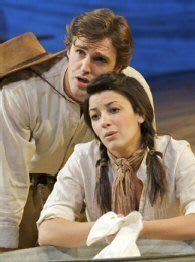 Oklahoma! was a landmark in musical theatre history, the first to present a show where the songs were an integral part of the story but, after its first performance in 1943, it has been performed so very many times so how can it be made to appear new and exciting?
Director John Doyle's answer is to dispense with scenery, use the minimum of props, and, instead of his past trade-mark style of actor/musicians, to employ an excellent cast who can not only act and sing divinely but also perform very impressive acrobatic dancing, some of which brought gasps of amazement. I should not be surprised if they can play musical instruments too, but in this production it is not called for, with the fourteen piece orchestra perched high above the stage, and, under the direction of Catherine Jayes, giving vibrant life to Rogers's score, beginning with the joyously uplifting Oh, What a Beautiful Mornin' sung by the golden-voiced Michael Xavier as Curly.
Two huge sheets are stretched at angles across the stage in designer David Farley's set, forming a backdrop which suggests the wide open spaces surrounding the homestead where Aunt Eller (Louise Plowright in feisty, no-nonsense, gun-toting style) keeps control of a farm with a plentiful supply of apples, distributed over the stage by the sinister farmhand - loner Jud Fry, portrayed with suitably morose anger and resentment by Craige Els, with Tim Mitchell's lighting effects casting menacing shadows across the theatre.
Choreographer Nikki Woollaston has challenged the expertise of the cast with the intricate footwork and boisterous lifts and throws, but they also have to sit or stand completely still forming a frame to the action, sometimes arresting their movement as if in a game of 'statues' while the story proceeds around them.
Leila Benn Harris is Laurey who, in the manner of adolescent girls, rejects the advances of Curly, a handsome guy that anyone would fall for. When the alternative is the predatory Jud Fry I don't see her problem, but she sits dreamily on a swing in an agony of indecision, while the events of the day are played out beneath her in dance form
This is not just a happy-hoe-down, all's well with the world musical - arguments between cowhand and ranchers lead to a fight, jealousy and resentment flourish, and the outside world is brought into focus with mention that Oklahoma will soon become the forty sixth state of the Union.
Michael Rouse as lariat- twirling, cart wheeling Will Parker arrives with tales of the big city. His "You can walk the privies in the rain and never wet your feet" must have seemed the height of luxury and their incredulous "What next?" echoes my own thoughts when the latest piece of technological wizardry reveals itself - and what can you say about his intended girl friend, the flirtatious, innocent-looking Ado Annie who is just a girl who can't say 'No' in a wonderfully comic performance from Natalie Casey? Fun, too, with Michael Matus as the peddler Ali Hakim, and his panic stricken dilemma when he almost has to marry her.
This has always been a great show - how could it fail with such music, lyrics and story? - but some shows are more equal than others and, judging by the audience trying to raise the roof with their cheers and applause it could not have been a better choice for the festival's Big Summer Musical.
Until Saturday, 29th August, alternating with "Grapes of Wrath"
Reviewer: Sheila Connor