Pygmalion
George Bernard Shaw
A Chichester Festival Theatre production in association with Duncan C. Weldon.
Chichester Festival Theatre
(2010)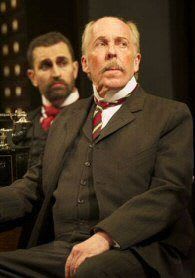 Shaw's classic tale of social injustice in Edwardian England continues to delight - most particularly this new production with its star-studded cast bringing every nuance of humour and wit to the fore, while still just about retaining the essential message.
The observation that an Englishman can be evaluated and judged in society by the pronunciation of his language can hardly be valid today with almost the whole of the UK indulging in Estuary English The number of 'glottal stops' and 'innits' on the train journey home caused the comment "Shaw would not have approved", not to mention some of the more 'exotic' language which would make Eliza's sanguinary expletive positively innocuous, but in Shaw's time form and manners were important, although our protagonist Henry Higgins seems totally unaware of the fact. To the exclusion of all else, and to the despair of his mother, his emphasis is on the study of pronunciation, and his aim - because of a bet - is to make Cockney flower seller Eliza Doolittle pass as a Duchess, once he has instructed her in the niceties of language - not only pronunciation, but content.
Honeysuckle Weeks is an Eliza whose Cockney screeches and piercing howls certainly offend the ear - so much so that as the volume increases she becomes incomprehensible, something which she doesn't quite lose even with her new 'refined' voice. What a joy though to see her in her first venture into society as, completely transformed, she makes her way slowly, deliberately and very carefully across the floor of Mrs. Higgins' drawing room meticulously pronouncing each word, but with the content of her conversation astounding the assembled company.
Eliza's dustman father, Alfred Doolittle, is a gift of a role, and Phil Davis seizes it with both hands and runs with it in a high speed comical delivery so successfully that each exit caused a burst of spontaneous applause. Enunciation and rhetoric are perfectly executed with the correct Cockney accent and enough humour and wit to satisfy the most pedantic of Shavians, the extensive dialogue tripping off his tongue to the manner born.
Three years ago, in Peter Hall's touring production, I commented on the length of time taken with the scene changes. Here, in director/designer Philip Prowse's opulent set, the changes are slick, speedy and quite ingenious, with lighting designer Gerry Jenkinson creating a little magic to transfer a rain drenched Covent Garden into Higgins' bachelor residence and then to his mother's elegant drawing room where a dignified kindly Stephanie Cole effortlessly manages to steal every scene in a beautifully understated performance.
Susie Blake too finds a quiet, unobtrusive comedy in the character of housekeeper, Mrs. Pearce, and Peter Eyre is a gentlemanly, kindly and very polite Colonel Pickering, his richly rounded vowels contrasting strongly with Eliza's strangulated tones.
Rupert Everett is surprisingly angry and petulant as Henry - a totally different style to the familiar Rex Harrison. Blinkered to the world around him as he immerses himself in his study of phonetics, his only concession to humour an appreciative laugh at the logic displayed by the dustman. Surprisingly for such an articulate actor he did stumble on a couple of lines. The scene which has he and Eliza facing each other from either side of the vast stage demonstrates how far apart are their aspirations, and the show concludes with his depressed figure huddled front of stage as Eliza triumphantly marries the besotted Freddy (Peter Sandys-Clarke), but not for security - Higgins' 'creation' has discovered a new, and very suitable independence.
In repertory until 27th August
Reviewer: Sheila Connor