Separate Tables
Terence Rattigan
A Chichester Festival Theatre production
Chichester Festival Theatre
(2009)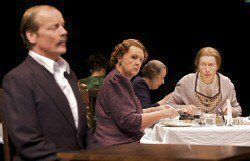 For the final production in yet another highly successful Summer Festival season the choice is Rattigan's play in a version which was never seen in his lifetime. The homosexual subject matter of Act Two would have horrified and repulsed many of his fans (as well as upsetting the Lord Chamberlain) at a time when this was a criminal offence and the 'Major' soliciting men in the street was replaced by the sin of groping women in a cinema - nowhere near as shocking - or convincing!
Set in a comfortable, middle-class Bournemouth hotel in the fifties, the lives of the elderly residents are enlivened, if not enriched, by the antics of the other guests. It gives them a great deal to gossip about and Stephanie Cole's silver-fox-fur clad battleaxe, Mrs. Railton-Bell, has appointed herself in charge of the moral standards of the establishment and has Josephine Tewson's Lady Matheson firmly under her thumb - or so she thinks.
The characters are exquisitely drawn with Cole in fine form and Tewson not overdoing the compliant Lady M.. John Nettleton's avuncular retired classics master is forever waiting for a visitor - one of his former pupils perhaps - and I warmed to Veronica Roberts's Mrs. Meacham dispensing wisdom and philosophy in Ann Widdecombe style, while keeping a close eye on the racing results. Manageress Miss Cooper (sympathetically and intelligently played by Deborah Findlay) glides in and out keeping the place in order while hiding her own hurt.
Stephen Brimson Lewis's comprehensively detailed set revolves from dining room with the residents seated at separate tables to a comfortable lounge with their 'usual' chairs. A video projection above shows the sea in all its changing moods, giving atmosphere to the location.
Director Philip Franks has an eye for the comedy without overshadowing the emotions bubbling beneath the surface, and the arrival of Gina McKee as faded beauty Anne Shanklind - dressed as if for a smart Mayfair dinner party - intrigues, especially as she is in search of her divorced husband, a now drink-dependent former Labour MP (Iain Glen) who once tried to kill her. An emotional and sexually-charged encounter between the two gives Mrs.R-Bell further cause for disapproval, yet beneath the surface are two desperately lonely people who cannot live together yet cannot live apart.
Act Two is the same hotel eighteen month later with the same residents, but now, in an amazing transition, McKee has become the dowdy and repressed thirty three year old spinster daughter of the indomitable Mrs. Railton-Bell, dressed like an overgrown schoolgirl and given to fits of hysterical breakdowns, and no wonder. Iain Glen too returns, now as smartly dressed but slightly shifty Major Pollock, although appearances can be deceptive and his exploits give Mrs. R-B something to get her teeth into. "This is a duty I hardly relish," she says, enjoying every moment as she invites the other residents to join her in demanding his dismissal.
After the gritty realism of John Osborne's Look Back in Anger introduced a new wave of graphically truthful writing, Rattigan's plays seemed restrained and old fashioned and were out of favour, but just below the surface of his seemingly innocuous characters lurk darker secrets, and often feelings of desperate loneliness and isolation - more depth than was a first perceived - with rich characterisation, fascinating story-telling and, in this production, the exceptional acting talents of every one of the performers, with particular mention for the brilliant interpretations from Glen and McKee. A show which touches the heart as well as the funny bone, and presented to perfection. Surely yet another Chichester production for the West End.
Reviewer: Sheila Connor