Sweeney Todd - The Demon Barber of Fleet Street
Music and lyrics by Stephen Sondheim, book by Hugh Wheeler, from an adaptation by Christopher Bond
Chichester Festival Theatre Production
Chichester Festival Theatre
(2011)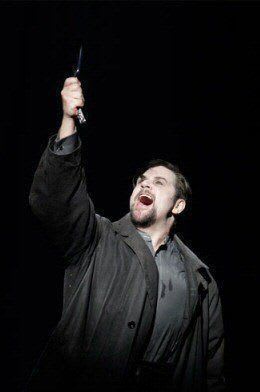 The Chichester Summer Festival Season is brought to a close with Jonathan Kent's production of Sweeney Todd, and one that we are not likely to forget in a hurry. I have often thought that the story of multiple murders, very graphically portrayed, is a strange choice for a musical, but the dramatic macabre plot, mixed with some very dark comedy, works superbly causing the audience to recoil with revulsion one minute before being doubled up with helpless laughter the next. Grimms' Fairy Tales were not so very different, but with less humour.
Sondheim's frequently ear-piercing and discordant music goes a long way towards creating the atmosphere of spine-tingling terror, the orchestra hidden on high behind a steel walkway and shattered windows creating a ghostly illusion that it's in the air. The opening song 'The Tale of Sweeney Todd' is enough to make the flesh creep even before the man himself arrives, sullen, unkempt, glowering with resentment and intent on revenge. This is a Michael Ball you have never seen before, almost unrecognisable. Maybe he doesn't quite achieve constant intense, brooding malevolence as his natural good nature slips through very occasionally, but his singing is superb, and what inspired casting pairing him with the incredibly versatile Imelda Staunton as Mrs. Lovett, creating more comedy than one would think possible given the circumstances. The "Just a little Priest" as they compare the qualities of the different professions, with a view to taste, is a hilarious highlight of the show, another being "By the Sea" with a wistful Staunton longing to take a break from her "respectable business".
Judge Turpin, in order to get his hands on Todd's beautiful wife and daughter, had him deported to Australia convicted of a crime he did not commit. Eighteen years later he is back and can think of nothing but revenge. Mrs. Lovett, who sells "The Worst Pies in London" welcomes him with open arms, producing his barbers' knives from their hiding place, and Ball caresses and fondles them as if they are his most precious love, menacingly triumphant as he proclaims "My arm is now complete" holding one aloft.
It is when Robert Burt as the showman Pirelli (who would not be out of place in a Victorian melodrama) threatens to expose him as a convicted criminal that the first murder takes place and Mrs. Lovett, pragmatically finding a solution to disposing of the body, also finds a palatable ingredient for her pies. Pretty soon Todd eliminates everyone who comes for a shave, dispatching them neatly from his blood-red barbers' chair to the food processing plant in the basement, which does nothing to help repeat trade but business in the pie shop downstairs is booming.
Both Ball and Staunton have beautiful, clear and precise enunciation, giving full value to the clever, witty lyrics, and there is a strong, sympathetic performance from young James McConville as the boy Tobias. The evening, however, belongs firmly to Staunton showing a genius for perfectly timed comedy as well as a wistful longing for the love of Sweeney Todd.
Yet another glorious triumph for Chichester, packed houses and standing ovations every night, and if yet another West End transfer is not on the cards I will eat one of Mrs. Lovett's pies!
Until 5th November.
Reviewer: Sheila Connor