The Syndicate
Eduardo De Filippo in a new version by Mike Poulton
Chichester Festival Theatre production
Minerva Theatre, Chichester
(2011)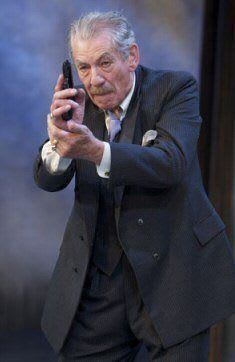 A play about the Naples underworld of 1960 must necessarily contain violence, and the thunderous bangs and booming offstage in the opening scene give the impression of exploding bombs and gunshots, shaking the Minerva theatre to its very foundations. The fact that a lot of the noise turns out to be a fireworks display sums up the essence of the story for here is a Godfather with a conscience, a family man, and, in Ian McKellen's hands, a man with a sense of humour. His relaxed and perfectly judged delivery brings to the fore any comic aspects in the script, but also his nicely balanced blend of authority and compassion represents a man aware of his age (seventy five) and his past, yet trying in the best way he knows to make a better world with 'no dark corners'.
McKellen, taking a break from his film role of Gandalf in The Hobbit, is Don Antonio Barracano who fled from Naples in his youth to escape a murder charge, made a fortune in America, and returned to his native town with the intention of providing rough justice for the criminals of the underworld, often victims of the corruption inherent in supposedly 'respectable' professions. This he does, dispensing advice and wisdom in Solomon-like judgements which restore order (at least temporarily) and no one dares dispute his decisions. His control of the area and his ruthless streak are evident in the respect and deference given by everyone who comes to him for arbitration and advice, but when a young man, destitute and complete with his heavily pregnant 'woman', comes to tell him he is going to shoot his father the next morning, this is something he has to think about. The fact that Don Antonio himself has killed seems to lie on his conscience and he needs time to make a decision, and give the boy time to cool off a little.
It is the father/son conflict which lies at the heart of the story, something which most families will recognise and, as the baker's son Rafiluccio Santaniello, young Gavin Fowler gives an amazingly naturalistic and very impassioned Italian-style performance of the resentment and sense of injustice that he feels for the father who will not help him. (Fowler says he has had the same sort of arguments with his mother). The father, Arturo Santaniello expressively played by Oliver Cotton, has the same, although less passionate, resentment for a son whom he thinks is lazy and insubordinate.
It is the characters rather than the action which carry The Syndicate along in Sean Mathias' sympathetic production, but there is very little for the women here. Italy's men have always assumed dominance, even more so at that time, and Cherie Lunghi is rather wasted as wife Donna Armida Barracano with hardly more to do than reluctantly agree that the savaging by one of her husband's beloved dogs was basically her own fault.
It is the interaction between the men which fascinates, not only the baker and his son but between Don Antonio and Michael Pennington's exceptionally moving Doctor Fabio - a man who, having served faithfully for thirty five years, is now refused permission to leave. The last scene, with all gathered around the dinner table, ultimately belongs to him as, after Don Antonio's magnanimous gesture aimed at preventing a massacre, ironically he stays on to continue the work - in his own way!
"The Syndicate" runs until 20th August , then tours to Malvern Festival Theatre, Cambridge Arts Theatre, Theatre Royal Bath and Milton Keynes Theatre
Reviewer: Sheila Connor